At Liberty Podcast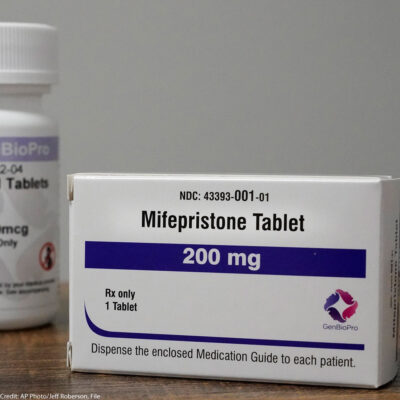 At Liberty Podcast
An Abortion Pill Could Soon Be Banned Nationwide
February 9, 2023
All episodes
Since the repeal of Roe v. Wade in June 2022, the fight for reproductive freedom has increasingly centered on medication abortion. The two pill regimen allows pregnant people to safely terminate pregnancies, with medicine alone. Since the FDA approved one of the medications used, mifepristone, in 2000, the method has grown to now account for 54% of abortions performed nationwide.
For that reason, anti-abortion advocates view it as a threat and are looking to take mifepristone off of shelves across in the U.S. That is the goal behind a lawsuit filed in November 2022 by the Alliance Defending Freedom (ADF). The ADF is suing the FDA to rescind its approval of mifepristone. If the suit is successful, it could drastically limit access to medication abortion across the country and force millions of Americans seeking abortions to undergo operations, carry unwanted pregnancies to term, not have access to miscarriage care, and more. This nightmare is already playing out and causing pain and trauma for people who can get pregnant in the 12 states where abortion is banned, and this lawsuit could bring these realities to all 50 states. The stakes are so high.
Here to talk with us about this dangerous lawsuit, the importance of mifepristone for reproductive healthcare, and how the ACLU is showing up to preserve reproductive care nationwide is Andy Beck, Senior Staff Attorney at the ACLU's Reproductive Freedom Project.
Kendall Ciesemier
Host of At Liberty and Senior Executive Producer of Multimedia, American Civil Liberties Union
she/her/hers
Kendall Ciesemier (@kendallciese) is the Host of At Liberty and the Senior Executive Producer of Multimedia at the ACLU. Previously, Kendall worked as a producer and reporter for The New York Times' Opinion section and Mic, a digital media company. Most notably at Mic, Kendall's interview with Alice Marie Johnson, a woman serving a life…
Kendall Ciesemier
Andrew Beck
Senior Staff Attorney, Reproductive Freedom Project, ACLU
Andrew Beck is a Senior Staff Attorney with the ACLU's Reproductive Freedom Project, where he has worked since 2010. His work focuses on advancing reproductive freedom through litigation, policy advocacy, and counseling healthcare providers. Andrew is a graduate of New York University School of Law and Haverford College. Prior to joining the ACLU, he clerked…
Andrew Beck
This Episode Covers the Following Issues