At Liberty Podcast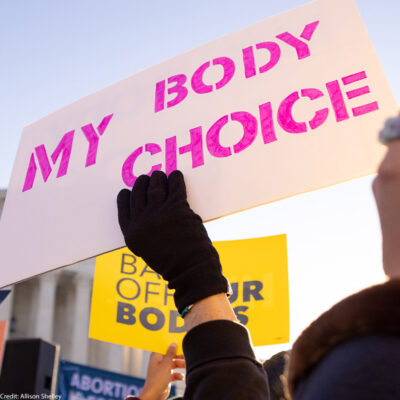 At Liberty Podcast
Special Edition: Strategies for the End of Roe
May 3, 2022
All episodes
On Monday night, the news publication Politico leaked a draft of a majority Supreme Court opinion written by Justice Alito. The draft details the highly anticipated decision in the case of Dobbs v. Jackson Women's Health Organization, known to the public as the case that could overturn Roe.
Supreme Court decisions typically don't come out until June, but this leaked draft, confirmed by Justice Alito himself, has sent early shockwaves across the country. In the draft majority opinion, Justice Alito writes that both Roe v. Wade and Planned Parenthood v. Casey, decisions that have been on the books for up to 50 years, are overturned, making access to abortion no longer a legally protected right. Should this draft hold, this decision would turn back the clock on progress for people who can get pregnant and call into question much more than access to abortion.
Joining us to help us understand is Brigitte Amiri, the Deputy Director of the ACLU's Reproductive Freedom Project.
We have a long fight ahead of us—but the ACLU was made for moments like this. To donate to support our fight against this attack on reproductive autonomy and all the attacks that follow, please visit aclu.org/keepfighting. Thank you for stepping up and working together with us.
Kendall Ciesemier
Host of At Liberty and Senior Executive Producer of Multimedia, American Civil Liberties Union
she/her/hers
Kendall Ciesemier (@kendallciese) is the Host of At Liberty and the Senior Executive Producer of Multimedia at the ACLU. Previously, Kendall worked as a producer and reporter for The New York Times' Opinion section and Mic, a digital media company. Most notably at Mic, Kendall's interview with Alice Marie Johnson, a woman serving a life…
Kendall Ciesemier
Brigitte Amiri
Deputy Director, ACLU Reproductive Freedom Project
Brigitte Amiri is a deputy director at the ACLU's Reproductive Freedom Project. She has been litigating reproductive rights cases for nearly twenty years. She is currently involved in numerous challenges, including leading the lawsuit against Kentucky's 6-week abortion ban and is a member of the team challenging Texas Senate Bill 8. Ms. Amiri has been…
Brigitte Amiri
This Episode Covers the Following Issues