ACLU sues Denver on behalf of five innocent victims of "mistaken identity" arrests
August 11, 2008 12:00 am
---
---
FOR IMMEDIATE RELEASE
CONTACT: info@aclu-co.org
DENVER – On behalf of five clients, the ACLU of Colorado filed suit today against the City and County of Denver and various Denver law enforcement officers, charging that in each case, "recklessly sloppy police work" resulted in the innocent plaintiff's arrest and imprisonment—as long as 26 days in one case—for crimes with which they had no connection whatsoever.
The lawsuit describes the ACLU clients as victims of "mistaken identity" arrests—in each case, Denver law enforcement officers had legal grounds to arrest a particular suspect for an offense, but instead they arrested or caused the arrest of one of the ACLU's innocent clients. In each case, the ACLU asserts, officers deliberately ignored facts that demonstrated that they were arresting or causing the arrest of the wrong person.
In four cases, the ACLU's clients were arrested on a warrant that authorized the arrest of a entirely different person. After any arrest, Colorado law requires a prompt appearance before a judge, but in almost every case, the ACLU's clients were denied that right, preventing them from explaining to the court that they were not the person named in the arrest warrant. Similarly, Denver Sheriff Department deputies at the jail refused to investigate obvious red flags and repeated complaints from Plaintiffs and their family that they were locking up the wrong person.
The lawsuit asserts that Denver policymakers have knowingly tolerated and turned a blind eye to an unjustifiable risk and frequency of such "mistaken identity" arrests. The ACLU contends that Denver officials failed to adopt the necessary policies, procedures, supervision and training that would reduce or eliminate the risk of such "mistaken identity" arrests. The ACLU also cites Denver's failure to adopt necessary policies to detect and promptly correct such "mistaken identity" arrests when they occur, and its failure to ensure that arrested persons were brought promptly before a court.
The suit also asserts that the ACLU clients and other victims of "mistaken identity" arrests attempted to file complaints with Denver officials after their arrest, but the complaints were rebuffed or ignored.
The lawsuit details the mistakes that lead to the unjustified arrest and imprisonment of the ACLU's clients, summarized as follows:
Christina Ann FourHorn
• ACLU client Christina Ann FourHorn was snatched from her Sterling home on a year-old arrest warrant obtained, unjustifiably, by Denver detective Mark Dalvit. Dalvit investigated an assault and robbery in Denver. Witnesses accused the victim's girlfriend of three weeks, who was identified as Christin Fourhorn, 160 pounds, born April, 1980, tattooed, and who was reportedly returning to her home in Oklahoma. Dalvit ran the name through the Colorado driver's license database and found the ACLU's innocent client. Although the computer showed she was 90 pounds heavier and seven years older than the suspect, Dalvit obtained a warrant for Christina's arrest, on the basis of an affidavit falsely stating that she was the person the witnesses identified. A Denver police department spokesperson later defended Dalvit's methodology as one that "followed our procedures." Christina spent five terrifying days in jail and nearly lost her job as a result of the erroneously-obtained warrant.
Muse Jama
• ACLU client Muse Jama was in his home, peacefully studying for a college exam, when two Denver police officers falsely arrested him, without probable cause, under a warrant for a different person, whose name was Ahmed Alia. Muse spent 8 days in Denver jails, booked under the name "Ahmed Alia," before he was released on bail. Denver law enforcement officers denied Muse his right to appear before a judge, and they repeatedly refused to investigate obvious red flags—and Muse's complaints—that he was not the person named in the warrant. When he was arrested, Muse had $80 in his wallet. Upon his release, Denver jailers wrote him a check for that amount, in the name of Ahmed Alia, making the check worthless to Muse.
Jose Ernesto Ibarra
• A Denver law enforcement officer concluded, erroneously that ACLU client Jose Ernesto Ibarra was someone else: a person with a different name, different physical description, and different date of birth who was the subject of outstanding arrest warrants for traffic violations. As a result, Plaintiff Ibarra spent 26 days in custody. He was denied the right to a prompt court appearance, and Sheriff deputies repeatedly refused to investigate obvious red flags that he was not the person named in the warrants, including the complaints of Plaintiff Ibarra and his family and their offers to provide documentary proof. Even after Denver courts determined that Jose was not the wanted suspect, Denver jailers still refused to release him unless Jose's family paid a traffic fine owed by the suspect. Jose's wife reluctantly paid the $274 fine in order to secure her husband's release.
Samuel Powell Moore
• Denver police officers erroneously arrested ACLU client Samuel Powell Moore four separate times under an outstanding Aurora warrant for a different person. Each time, the Aurora Municipal Court quickly determined that the ACLU's client was not the person named in the warrant. The most recent of those "mistaken identity" arrests was last November, 3 years after the suspect sought in the warrant, William Douglas Pipkin, had died. After that fourth arrest without probable cause, Sam spent 8 days in Denver's jail, without an opportunity to appear in court and without any judicial review of the officers' erroneous determination that he was the person named in the Aurora warrant.
Dennis Smith
• Dennis Michael Smith teaches at a public high school in Denver. Last January, he and a friend went to the Denver County Jail to visit a former student who was in trouble. After Dennis provided his driver's license, deputies declared, erroneously that Dennis was the same person as Dennis Allen Smith, someone with a different middle name, tattoos, a criminal history, and an active arrest warrant. After having been confused with this criminal suspect in the past, Dennis thought the Colorado Bureau of Investigation (CBI) had straightened things out. He obtained and kept with him a letter from the CBI, which stated authoritatively that he was not the same person as Dennis Michael Smith. Indeed, the letter explained that CBI had entered a notation to that effect in CCIC, the state's computerized criminal information database. Dennis told the deputies that the CBI letter was just outside, in his car, but the deputies would not wait for Dennis's friend to retrieve it. Nor did they check to see if Dennis had the tattoos that were part of the suspect's description (He doesn't). Dennis was handcuffed and transported to the City jail.
"Each of our clients was the victim of a separate mistake by different Denver law enforcement officers," explained Mark Silverstein, ACLU Legal Director. "But at the heart of these separate mistakes, what ties them all together, is a systemic administrative failure on the part of Denver top law enforcement officials. It is Denver's failure to adopt and enforce adequate procedures, policies, training and supervisions that unjustifiably resulted in the arrest and imprisonment of these five innocent persons. That is why Denver is named in the suit, as well as individual law enforcement officers."
"Denver has knowingly tolerated an unjustifiable risk and unjustifiable frequency of these 'mistaken identity' arrests," said Ty Gee, of Haddon, Morgan, Mueller, Jordan, Mackey & Foreman, who is serving as an ACLU Cooperating Attorney on the case. "Some additional cases are described in the Complaint. We suspect there are many more that have not yet come to light."
The lawsuit, FourHorn v. City and County of Denver, was filed in federal district court in Denver.
Additional information about the ACLU's clients and the lawsuit is available on the ACLU of Colorado website at www.aclu-co.org/docket/200719/200719_description.htm
Stay Informed
Every month, you'll receive regular roundups of the most important civil rights and civil liberties developments. Remember: a well-informed citizenry is the best defense against tyranny.
By completing this form, I agree to receive occasional emails per the terms of the ACLU's privacy policy.
The Latest in Smart Justice
ACLU's Vision
The American Civil Liberties Union is a nonprofit organization whose mission is to defend and preserve the individual rights and liberties guaranteed to every person in this country by the Constitution and laws of the United States of America.
Learn More About Smart Justice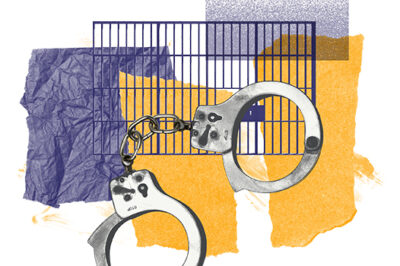 The ACLU Campaign for Smart Justice is an unprecedented, multiyear effort to reduce the U.S. jail and prison population by 50% and to challenge racism in the criminal legal system.