ACLU-TN Releases Report on Impact of Davidson County 287(g) Program
December 12, 2012 1:58 pm
---
---
Knox and Rutherford Counties Urged to Withdraw 287(g) Applications
FOR IMMEDIATE RELEASE
CONTACT: (212) 549-2666; media@aclu.org
NASHVILLE – The American Civil Liberties Union of Tennessee today released a report, "Consequences & Costs: Lessons Learned from Davidson County, Tennessee's Jail Model 287(g) Program," documenting the serious problems with the Davidson County Sheriff's recently-ended 287(g) jail program. The purpose of the report, which is being sent to the Knox and Rutherford County sheriffs, both of whom have submitted 287(g) applications, is to explain the devastating impact of the program and to urge them to withdraw their applications.
"We hope that the Rutherford and Knox County sheriffs will read our report and recognize that it is in the best interest of their communities to withdraw their pending 287(g) applications. These programs only damage community trust in law enforcement, increase the potential for racial profiling and waste precious law enforcement resources," said ACLU-TN Executive Director Hedy Weinberg.
The 287(g) program run by the Department of Homeland Security's (DHS) Immigration and Customs Enforcement (ICE) agency deputizes state and local police and sheriffs to enforce federal immigration law. DHS will meet on December 17 to make decisions on applications for new 287(g) agreements, including the applications submitted by the Knox County Sheriff's Office and the Rutherford County Sheriff's Office. DHS is also currently reviewing its existing 287(g) agreements with 57 law enforcement agencies in 21 states whose agreements were temporarily extended, most until the end of December 2012.
Weinberg noted, "We are especially concerned about Rutherford County's application given the area's history of hostility toward local Muslims and immigrants, including a Sheriff's Office training led by a known anti-Islam speaker and local legislators' sponsorship of numerous harsh, anti-immigrant bills."
Key findings from the report, based on original quantitative data analysis led by Professor Katharine Donato of Vanderbilt University's Sociology Department as well as interviews with community members, include the following:
While the 287(g) program was developed with the stated goal of responding to "immigration violators who pose a threat to national security or public safety," the vast majority of the time, deportations through Davidson County's 287(g) program were triggered by minor, often traffic-related offenses.

In 2012, misdemeanors accounted for nearly 79 percent of arrests of foreign-born people and for those ultimately put into removal proceedings, a staggering 67 percent of their arrests were for Level 2 offenses, which was the level that included traffic violations in the data analyzed. Simultaneously, after implementation of 287(g), among the foreign-born population, arrests for the most severe Level 1 offenses actually decreased 21 percent, moving the program far from its stated goal of targeting threats to public safety.

Davidson County's 287(g) program encouraged racial profiling and disparate treatment from stop to detention, based on characteristics such as appearance, ethnicity or language skills. Though under a jail model 287(g) agreement, the agency with immigration authority is not the same agency responsible for arresting people on the street, evidence from Davidson County illustrates how the program's presence impacted the perceptions and actions of others involved in the criminal justice system, from police on patrol to other public officials, whose statements regarding the influence of language and immigration status on their decisions are included in the report.

In addition, data shows that implementation of the 287(g) program in Davidson County corresponds with foreign-born people being arrested at an increasing rate for the single charge of "No Driver's License," which was not only the most common gateway charge for deportation in Davidson County, but also something that cannot be determined until after the individual is pulled over. If no other charge is brought, then the reason for pulling that person over is questionable at best and quite possibly a case of racial profiling. Of single charge arrests, the percentage that were for "No Driver's License" increased 9.4 percent for the foreign-born after implementation of 287(g). The percentage of single-charge arrests for "No Driver's License" that led to removal increased from 18 percent of arrests before implementation of 287(g) to 43 percent after, an increase of 136 percent.

The 287(g) program led to immigrants living in fear and distrust of law enforcement. Numerous examples in the report illustrate how, by introducing the threat of immigration enforcement into community policing, Davidson County's 287(g) program deterred immigrants, including domestic violence survivors, from reporting crimes they experienced or witnessed, ultimately undermining public safety as a whole.
Lindsay Kee, Communications Director and author of the report, explained that "this program has been sold as an effective mechanism to deport dangerous criminals and make Nashville safer. Yet, our data indicates that of the nearly 10,000 individuals deported under 287(g), most had been arrested for minor violations. When you look at arrests of foreign-born people during 287(g)'s implementation, the percentage of arrests for the most dangerous crimes actually decreased."
Yesterday the ACLU, along with 161 other organizations from across the country, also sent a letter to the Department of Homeland Security calling for termination of the 287(g) program.
Read the full report: "Consequences & Costs: Lessons Learned from Davidson County, Tennessee's Jail Model 287(g) Program."
Stay Informed
Every month, you'll receive regular roundups of the most important civil rights and civil liberties developments. Remember: a well-informed citizenry is the best defense against tyranny.
By completing this form, I agree to receive occasional emails per the terms of the ACLU's privacy policy.
The Latest in Criminal Law Reform
ACLU's Vision
The American Civil Liberties Union is a nonprofit organization whose mission is to defend and preserve the individual rights and liberties guaranteed to every person in this country by the Constitution and laws of the United States of America.
Learn More About Criminal Law Reform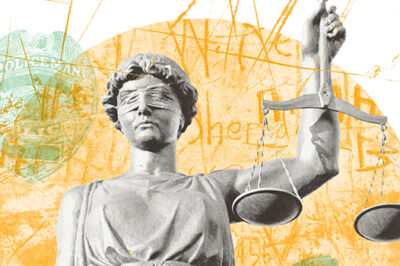 The Criminal Law Reform Project seeks to end harsh policies and racial inequities in the criminal justice system.