Acting on Behalf of Inmates and Local Publishers, ACLU Challenges Censorship in Colorado Prisons
March 22, 2000 12:00 am
---
---
FOR IMMEDIATE RELEASE

DENVER, CO — Acting on behalf of eight local publishers and the prisoners who want to read their papers, the American Civil Liberties Union of Colorado today filed a federal court challenge to the censorship of books, newspapers, magazines, and political commentary by the Colorado Department of Corrections.
In its legal complaint, the ACLU said the list of reading material unjustifiably banned includes political commentary from both the left and right; religious periodicals; critiques of the criminal justice system; publications that advocate for prisoners' rights; music magazines; a report issued by the European Parliament; David Mamet's play, The Spanish Prisoner; Laura Esquivel's novel, Like Water For Chocolate; and a book criticizing hate groups by Morris Dees, Director of the Southern Poverty Law Center.
Unlike lawsuits challenging prison censorship in other states, this one does not deal with sexually explicit publications.
The ACLU also charged that music magazines catering to an African American audience are particularly likely to be censored as "gang-related."
"Entire issues of music magazines such as Vibe have been censored as 'gang-related' because they contain articles or advertisements with photographs of rap performers," said Mark Silverstein, Legal Director of the ACLU of Colorado.
"The censorship of these music magazines reflects a racist paranoia," Silverstein said. "Some prison censors apparently see 'gang signs' in every photo in which the hands of an African American performer hand are visible."
Prison officials' paranoia about hand signs is so extreme, Silverstein added, that one inmate was blocked from receiving a book about American Sign Language, which he wanted to learn so he could communicate with his deaf niece on family visits.
The result of the policy, Silverstein said, "is an arbitrary, erratic, inconsistent and irrational regime of censorship that repeatedly violates the constitutional rights of publishers as well as prisoners."
The lawsuit was filed on behalf of the Association of Alternative Newsweeklies; eight publishers of periodicals that have been censored, including Denver's weekly alternative newspaper, Westword; and inmates at various Colorado prisons.
"The First Amendment protects the right of prisoners to read information and opinion from a wide variety of sources," said Hugh Gottschalk, of Wheeler, Trigg and Kennedy in Denver, a volunteer cooperating attorney who filed the case for the ACLU. "Similarly, publishers have a First Amendment right to reach their readers, including prisoners."
"Prison officials are clearly entitled to prohibit publications that contain escape plans, instructions for making weapons, or publications that pose a real threat to prison rules or prison security," Gottschalk added, "but Colorado prison officials are going far beyond the bounds of such reasonable and constitutionally-permitted censorship."
According to the lawsuit, inmates are forbidden to receive political commentary if prison officials determine that an article encourages "hatred or contempt of other persons," and at least one issue of Westword was censored on this basis.
"A regulation with such broad language can be used to censor almost anything, from the editorial page of a daily newspaper to the Bible," Gottschalk said. "The Department of Corrections has improperly relied on this vague regulation to censor commentary that does nothing more than criticize government policy."
Another basis for censorship targeted in the lawsuit concerns "security threat groups" (STGs), a prison term for gangs. Publications are censored if prison officials conclude that they are "produced or distributed by" STGs or if they contain material "advocating or depicting association or membership" in STGs.
According to the ACLU, numerous legitimate publications have erroneously been branded with the stigmatizing STG label.
"Publications like Denver's alternative weekly, Westword, and the entertainment magazine Rolling Stone have been censored on the ground that they encourage hatred or contempt or that they are so-called security threat groups," Silverstein said.
"These labels are obviously erroneous. But prison officials label these publications without providing the publishers with any notice or any opportunity to explain why that label is mistaken. That violates the due process rights of the publishers."
The lawsuit also alleges that prisoners have no meaningful opportunity to appeal a decision to censor their reading material. Although prisoners can file grievances, decision makers decide the prisoners' appeals without reviewing the material that has been censored, the ACLU said.
Further, the ACLU charged, the censorship of materials is erratic and inconsistent. One example cited is Vibe magazine, which is routinely banned as "gang-related" at the Colorado Women's Correctional Facility in Canon City but is routinely permitted at a similar women's facility in Denver.
In addition to seven prisoners and the Association of Alternative Newsweeklies; the plaintiffs in the case include New Times, Inc., which publishes Westword; Dark Night Press, which publishes commentary on Native American issues; Clayton Douglas, publisher of Free American Newsmagazine, a conservative-oriented magazine of political news and commentary; Larry Rice, publisher of Cry Justice Now Newspaper, a religiously oriented publication directed to prisoners; Doret Kollerer, publisher of North Coast Xpress; Christine Donner, coordinator of the Prisoner's Rights Project of the Rocky Mountain Peace and Justice Center in Boulder, which publishes a newsletter called Shut Them Down; Barrio Defense Committee, which publishes Voz del Barrio Atzlan; and Maoist Internationalist Movement, which publishes MIM Notes, a bi-monthly journal of political commentary.
Stay Informed
Every month, you'll receive regular roundups of the most important civil rights and civil liberties developments. Remember: a well-informed citizenry is the best defense against tyranny.
The Latest in National Security
ACLU's Vision
The American Civil Liberties Union is a nonprofit organization whose mission is to defend and preserve the individual rights and liberties guaranteed to every person in this country by the Constitution and laws of the United States of America.
Learn More About National Security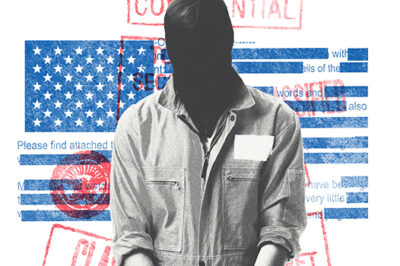 The ACLU's National Security Project is dedicated to ensuring that U.S. national security policies and practices are consistent with the Constitution, civil liberties, and human rights.