Court Auditor Slams Pittsburgh Police for Whitewashing Misconduct Complaints
August 1, 2002 12:00 am
---
---
FOR IMMEDIATE RELEASE
PITTSBURGH- The court-appointed auditor overseeing the police bureau's progress under the first-in-the-nation consent decree with the Department of Justice filed a highly critical report yesterday, suggesting that the City may have deliberately delayed investigating some very serious misconduct complaints, including the strip-search of an infant.
Witold Walczak, Executive Director of the Pittsburgh chapter of the American Civil Liberties Union, which brought the historic police abuse lawsuit in 1996 that led to the consent decree, expressed grave concerns about the auditor's findings.
""The ACLU's 1996 lawsuit largely targeted repeated whitewashing by the investigative office of civilian complaints,"" he said. ""Although it appeared for a while that things had improved, we now learn that the City has returned to its old tricks to shield officers who violate people's constitutional rights.""
Walczak asked Pittsburgh residents ""to join the ACLU in calling on the Mayor and City Council to make the necessary commitment to fix the growing problems. The City has come too far and spent too much money on trying to bring accountability to an out-of-control police bureau to abandon the process now. We simply cannot go back to the dark ages of unaccountable police officers being allowed to ravage people's rights.""
Among the most troubling findings presented by Dr. James D. Ginger in his 74-page report is that several credible complaints involving very serious constitutional violations ""have been allowed to 'age' for several years."" These cases involved ""investigations that were abandoned in the face of apparent indications of officer behavior that was violative of bureau regulations and/or Constitutional protections."" The report suggests that the City deliberately delayed investigating these serious cases to shield the officers.
In one particularly egregious case identified in the report, the investigative office cleared several officers who allegedly strip-searched an infant in public. Ginger said that if true, the search not only violated numerous bureau rules for conducting strip searches, but ""the behavior shocks the conscience, and falls well outside permitted police tactics."" Investigators also failed to consider the officers' histories, as required by the consent decree. The two detectives involved had eight illegal search and excessive force complaints between them.
The report also addresses serious concerns brought to Ginger's attention by the ACLU in March. The ACLU had received confidential information from several whistleblowers about three major problems: (1) The City was not zealously investigating all cases because it was rushing to clear a huge backlog that will likely prevent the City from ending federal oversight; (2) Investigators were telling police officers being investigated for misconduct what questions they would ask before recording the interviews, an inappropriate investigative technique; and (3) Investigators had not received decree-mandated training.
""The ACLU is pleased that the information it provided was found credible and helpful, but the fact that these problems do indeed exist is terribly distressing,"" Walczak said. ""It is beginning to appear that our reform efforts have much further to go than we once thought.""
ACLU Fact Sheet Summary of Auditor's 18th Quarterly Report on The Pittsburgh Bureau of Police
The latest audit of the City's internal affairs system, known as OMI (Office of Municipal Investigations), found that a high percentage of recent misconduct investigations were not ""zealously investigated"" and contained fatal flaws.
The ACLU raised a concern in March, based on information from confidential informants, that the quality of investigations was being sacrificed in the interest of clearing the huge case backlog, which will likely prevent the City from getting the Consent Decree lifted. The office had failed to investigate hundreds of citizen complaints, many that have been pending for more than three years, and some as long as ten. Old cases are very difficult to review fully and fairly because evidence is stale. In other words, the older the case the less likely that a legitimate misconduct complaint can be sustained. Unfortunately, Dr. Ginger validated the ACLU's concerns.
Dr. Ginger identified two ""exceptionally troubling"" trends.
First, investigators used ""illogical leaps to unfound cases."" Examples discussed in the report included cases alleging improper handcuffing and excessive force were that were ""unfounded"" because the complainants were ""found or pled guilty to an arrestable offense."" Of course, whether the person is subsequently found guilty is irrelevant in deciding whether the police used excessive force or other improper tactics.

In another example, Ginger notes that OMI ""exonerated"" a male officer alleged to have ""grabbed a female driver's breasts"" during a traffic stop. Exonerated means the officer followed all appropriate policies and procedures, which under the finding means that ""sexual assault is an appropriate police activity,"" obviously an absurd conclusion.
Second, the City may have deliberately delayed investigating cases involving credible complaints about serious constitutional violations. According to Ginger, many of the recently reviewed files were ""substantially aged cases, some more than four years old, which, on their face, appeared to be potentially credible complaints of serious constitutional violations, but which were closed without painstaking investigation."" Examples include:


— OMI cleared an officer of a complaint that while off duty he had pounded on someone's door for 90 minutes in the middle of the night, eliciting two 9-11 calls. OMI said the officer had no prior complaints when in fact he had four serious ones. The evidence was clear that the officer not only had violated several Bureau rules and had a history of ""inability to control temper,"" but had likely committed two crimes.

— OMI cleared an officer charged with excessive force based on three officer statements that they ""didn't notice"" or didn't remember,"" while there was credible ""third-party testimony"" and medical evidence to sustain the complaint.

— OMI cleared an officer who ""used a baton to move a bystander, absent any resistance or refusal,"" which is ""an inappropriate use of force.""

— OMI cleared an officer of excessive force charges that occurred in a bar. Despite the presence of many witnesses, OMI failed to interview them.

— OMI dismissed charges against an officer because he was no longer employed, but failed to investigate an allegation that ""two other officers knocked"" the person's head on the wall in the hospital.

In sum, Dr. Ginger reviewed 34 ""old cases"" that had just been cleared and found significant problems with 32. Consequently, he directed OMI to redo all 85 ""back-log"" complaints completed in the past quarter.
Even among newer cases that supposedly were investigated fully, Dr. Ginger found that nearly 15% were not pursued ""zealously"" and directed OMI to redo them. Many of the problems identified in the ACLU's 1996 lawsuit and targeted by the consent decree involving investigative failures were again apparent. For instance:
— Failure to look for and question all witnesses;

— Failure to adequately pursue ""collateral misconduct,"" which is misconduct that is not specifically complained about but which nevertheless is clear from the gathered evidence. Dr. Ginger noted one case where OMI failed to investigate what appeared to be a highly questionable strip search that the officer had failed to report, as required by Bureau rules.

— Improperly giving police officers' testimony greater weight than that of the complainants. The decree prohibits this.
Dr. Ginger also validated two other concerns about investigator training and investigation techniques identified by whistleblowers and brought to his attention by the ACLU in March.
OMI has begun ""previewing"" questions with suspected officers: The ACLU argued that just as a good police officer would never review questions with a criminal suspect before turning on the tape recorder, this should not be done when investigating alleged police misconduct. Dr. Ginger agreed, saying that this ""serious lapse"" should be remedied immediately.
Investigators have not received training expressly required by the consent decree: The consent decree requires that all investigators, both civilian and police, receive very specific training. The ACLU learned that several civilian investigators had been on the job for years without receiving the required training. Dr. Ginger confirmed the allegation and, again, called it a ""serious lapse"" that ""should be remedied immediately."" A major reason for the poor investigations documented in the report is likely to be the absence of necessary training.
Stay Informed
Every month, you'll receive regular roundups of the most important civil rights and civil liberties developments. Remember: a well-informed citizenry is the best defense against tyranny.
By completing this form, I agree to receive occasional emails per the terms of the ACLU's privacy policy.
The Latest in Smart Justice
ACLU's Vision
The American Civil Liberties Union is a nonprofit organization whose mission is to defend and preserve the individual rights and liberties guaranteed to every person in this country by the Constitution and laws of the United States of America.
Learn More About Smart Justice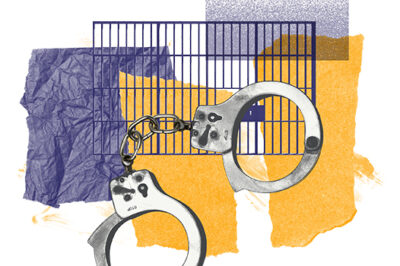 The ACLU Campaign for Smart Justice is an unprecedented, multiyear effort to reduce the U.S. jail and prison population by 50% and to challenge racism in the criminal legal system.