North Carolina's Highest Court Will Hear Landmark Death Penalty Cases Involving Racial Bias
March 2, 2018 2:45 pm
---
---
DURHAM, N.C. – The North Carolina Supreme Court agreed today to hear cases that will decide whether three defendants of color should remain on death row despite documented evidence of racial bias in their cases.
The court accepted the cases of Marcus Robinson, Quintel Augustine, and Christina Walters, the first people to prove under the North Carolina Racial Justice Act that racial discrimination helped secure their death sentences and to have their sentences reduced to life without parole. That decision was later overturned, and the four were returned to death row.
"We are encouraged by the North Carolina Supreme Court's decision to hear these cases and review the claims of widespread racial bias in capital cases," said Cassandra Stubbs, director of the ACLU's Capital Punishment Project and one of the attorneys representing Marcus Robinson. "The state court's action comes on the heels of recent U.S. Supreme Court decisions — Foster v. Chapman and Pena-Rodriquez v. Colorado — that emphasize the constitutional imperative to guard against racial bias. The ACLU has long advocated in North Carolina and other jurisdictions for reform to address widespread racial discrimination in jury selection."
In his 2012 ruling on the Racial Justice Act defendants' cases, Superior Court Judge Gregory Weeks found "a wealth of evidence showing the persistent, pervasive, and distorting role of race in jury selection throughout North Carolina." Weeks said the defendants proved that prosecutors removed Black people from jury service at double the rate they struck other potential jurors. The defendants also exposed bias in prosecutors' own notes, training materials, and testimony. For example, a Cumberland County prosecutor wrote notes such as "blk wino," "thug," and "black, high drug" to describe prospective Black jurors in a capital case.
James Ferguson, a founding member, along with the late Julius Chambers, of Ferguson, Chambers & Sumter, represents Quintel Augustine along with the Center for Death Penalty Litigation. About the North Carolina Supreme Court's decision, Ferguson said, "I've had the honor of being involved in a number of civil rights milestones in North Carolina. In the 1960s, I was part of our state's first racially integrated law firm. We challenged school segregation and housing and employment discrimination, winning several cases in the U.S. Supreme Court. I was there in 2013 when the governor pardoned the Wilmington 10, a group of civil rights activists who were wrongly convicted in the 1970s by a racially biased prosecution. These Racial Justice Act cases are every bit as important to our state's progress on civil rights issues."
Under the Racial Justice Act, which prohibited racial discrimination in sentencing in capital cases, Judge Weeks removed all four prisoners from death row in 2012 and sentenced them to life without parole. In 2015, the North Carolina Supreme Court overturned Weeks' decision, saying the hearings should be done over because the state wasn't given enough time to prepare and that three of the defendants, who were tried together, should have their own separate hearings. The defendants were sent back to death row.
In January 2017, Superior Court Judge Erwin Spainhour threw out all four cases without allowing a second hearing, saying the defendants could no longer use the Racial Justice Act because the legislature repealed it in 2013. Now that the Supreme Court has accepted the cases, it will decide whether Judge Spainhour's decision to dismiss the defendants' powerful evidence of race discrimination was correct.
These four defendants join two other death row prisoners, Rayford Burke and Andrew Ramseur, who are already on the court's docket with a related claim. In those cases, the court will decide whether death row prisoners who filed Racial Justice Act claims but have not yet had hearings still have the right to present evidence of racial bias in court.
"All we want is for the courts to look at the facts and make a fair decision," said Ferguson. "When you really look at the evidence, it's clear that race is influencing how we use the death penalty in North Carolina. This is a chance for the state's highest court to declare, definitively, that racial bias in the death penalty is an urgent civil rights issue that cannot be swept under the rug."
Marcus Robinson is represented by the American Civil Liberties Union, the Center for Death Penalty Litigation, and attorney Don Beskind. Quintel Augustine is represented by the Center for Death Penalty Litigation and Ferguson, Chambers & Sumter. Christina Walters is represented by the Center for Death Penalty Litigation and Malcolm Tye Hunter.
For documents and more information:
North Carolina v. Robinson
https://www.aclu.org/cases/north-carolina-v-robinson
North Carolina Racial Justice Act
https://www.aclu.org/north-carolina-racial-justice-act?redirect=ncrja
ACLU Capital Punishment Project
https://www.aclu.org/issues/capital-punishment
Stay Informed
Every month, you'll receive regular roundups of the most important civil rights and civil liberties developments. Remember: a well-informed citizenry is the best defense against tyranny.
By completing this form, I agree to receive occasional emails per the terms of the ACLU's privacy policy.
The Latest in Capital Punishment
ACLU's Vision
The American Civil Liberties Union is a nonprofit organization whose mission is to defend and preserve the individual rights and liberties guaranteed to every person in this country by the Constitution and laws of the United States of America.
Learn More About Capital Punishment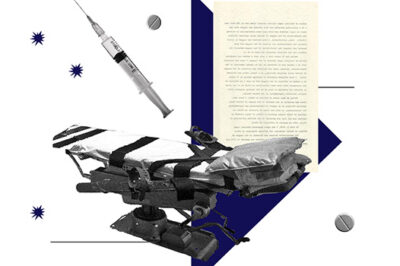 The Capital Punishment Project works toward the repeal of the death penalty in the United States through strategic litigation, advocacy, public education, and training programs for capital defense teams.