Welfare Must Work at Eliminating Poverty, Protecting Civil Rights; ACLU Warns Senate Most Reform Schemes Not Up to Task
June 26, 2002 12:00 am
---
---
Analysis from the ACLU's Washington National Office
FOR IMMEDIATE RELEASE
WASHINGTON – Saying that an effective welfare system must have poverty reduction as its highest priority, the American Civil Liberties Union today warned a Senate committee that most current reform plans are not up to the task and would, in many cases, encourage the ongoing state-level violation of welfare recipients' core civil liberties.
"Welfare reform has been an abject failure, regardless of what its supporters say," said LaShawn Y. Warren, an ACLU Legislative Counsel. "The number of people on the rolls has dropped to a significant degree because states are unfairly penalizing recipients and denying them opportunities to challenge any improper withdrawal of benefits."
"The Senate needs to pay greater attention in its bill to the core American values of fairness, compassion and adherence to the basic freedoms contained in the Bill of Rights," Warren added.
At issue is legislation set for markup today in the Senate Finance Committee, chaired by Sen. Max Baucus (D-MT), that would reauthorize the 1996 welfare reform plan known as the Temporary Assistance to Needy Families (TANF) program. TANF is a block grant program originally authorized in the Personal Responsibility and Work Opportunity Reconciliation Act of 1996 as a part of a federal effort to end welfare.
The bill under consideration today is a compromise measure, introduced by Sens. John Breaux (D-LA) and Orrin Hatch (R-UT), that includes provisions more generous in child care funding and less onerous in work-requirements than those contained in both the Administration's welfare reform proposal and a bill passed last month by the House of Representatives (HR 4737). Both the House bill and the President's proposal were roundly criticized by the ACLU, NAACP and other advocacy groups for provisions that they said would infringe on civil liberties and do little to move Americans out of poverty.
According to Senate Finance Committee Chairman Baucus, the bill that will be brought before his committee today will include several provisions that will alleviate poverty while respecting civil liberties. These include, the ACLU said, measures that would (1) give some legal immigrants TANF benefits, (2) require recipients to be given a mandatory skills assessment with the aim of identifying barriers to employment and (3) offer states incentives to place recipients in higher paying jobs. Also noteworthy, the ACLU said, are sections that allow rehabilitative and treatment programs to count toward work requirements and that allow states to funnel child support payments directly to families.
"A compassionate approach to combating poverty — something which is non-existent in the recent House bill — must respect the rights guaranteed under the Constitution to everyone in the United States," Warren said. "The Senate must take this approach and protect freedom of speech and religion, privacy rights, equal protection and due process."
Concern has been mounting among the civil liberties and civil rights communities that this year's welfare reform reauthorization will continue to have a negative impact on those Americans most vulnerable in society and most desperate for tools that allow them to reach self-sufficiency. Specifically, changes in the welfare system disproportionately impact women and children, who comprise the vast majority of welfare recipients.
The negotiations in the Senate have revolved around three distinct legislative approaches to welfare reform. One, proposed by Sens. Evan Bayh (D-IN) and Thomas Carper (D-DE), was structured much like the problematic House-passed bill and the President's proposal. Also in play was a tri-partisan bill — backed by Sens. Jim Jeffords (I-VT), Olympia Snowe (R-ME) and John Breaux (D-LA) – that the ACLU says was not as objectionable as the Bayh/Carper measure but still needed work. The Jeffords/Snowe/Breaux proposal provided the framework for the current compromise legislation being marked up in the Senate.
The ACLU has pointed to several provisions in both the Administration's welfare reform proposal and the legislation passed by the House that are of particular concern and should be avoided in any final Senate bill. Notable among these are measures that would:
Undermine the Separation of Powers – The so-called "superwaiver" provision in the House bill would grant cabinet secretaries broad and unchecked authority to eliminate key protections – even ones implemented by Congress — for people served by a variety of federal programs, including public housing, food stamps, adult education and child care, and would do so without any oversight or input from the communities affected.
Threaten Privacy – Currently, many states compel women to help authorities identify the father of their child; this information is then compiled in databases used to track state child support obligations. The House welfare reform bill and the Administration's proposal would expand the use of these databases and open them up ostensibly to combat unemployment fraud. Unfortunately, such a move goes beyond the original justification for the database, threatens privacy and could lay the framework for a national ID system.
Lack Fairness in Sanctions – The legislation recently passed in the House would impose full-family sanctions of cash assistance against welfare recipients for minor program infractions such as short periods of missed work, but provides no recourse for people whose benefits have been sanctioned unfairly. Recipients would have no ability to appeal a denial of benefits by showing mitigating circumstances, such as a sick child or parent, domestic violence issues, employer malice or simple clerical errors.
Fail to Address Barriers to Employment — Many adult recipients have circumstances or conditions that impede their ability to find and maintain employment. Although the House-passed bill increases work requirements and rewards states for decreasing their welfare rolls, it offers little incentive to states to encourage them to address educational, physical, and mental barriers that prevent recipients from securing long-term employment. The bill requires states to perform a skills assessment, yet it neglects to address the more crucial problem – the needs that must be met before an individual can function effectively in an employment setting.
Maintain Anti-Immigrant Provisions in Current Law – In the 1996 welfare reform law, provisions were included that impose a five-year ban on benefits for permanent residents, benefits that are paid for in part by legal immigrants' tax dollars. Other immigrants, including many legally residing in America, were barred from all benefits under the 1996 law. The ACLU said it was also concerned about a provision in the 1996 legislation that legally "deemed" the financial resources of a new immigrant's sponsor available to that immigrant, even when — realistically — the money was unavailable. The so-called "deeming" rule has thrust many legal immigrants into abject poverty over the past six years.
Erect Obstacles to the Promotion of Personal Responsibility – The reauthorized TANF would do nothing to change the ban in current law on benefits for individuals who have been convicted of a drug felony yet served their time. TANF currently prohibits individuals who have been convicted of a drug-related felony from receiving TANF or Food Stamps. Even people who have completed drug treatment programs and tried to turn their lives around are still ineligible for federal aid. The original intent of TANF was to promote personal responsibility, yet permanent denial of federal assistance erects new barriers that may prevent people from improving their situation to become productive, responsible citizens.
Promote Government-Funded Censorship That Threatens Teen Health – When the welfare legislation became law in 1996, it appropriated $50 million per year for five years – and demanded states match every four federal dollars with three of their own – for abstinence-only-until-marriage education programs. While the ACLU has long believed that discussion of abstinence is an important component of any educational program about human sexuality, it opposes programs, such as the one outlined in the welfare bill, that focus exclusively on abstinence and censor other valuable information that can help young people to make responsible and safe decisions about sexual activity and reproduction. There is no compelling research that suggests abstinence-only education is effective in preventing pregnancy or sexually transmitted diseases. Even worse, evidence suggests that teaching only abstinence endangers adolescent health by withholding facts about disease and pregnancy prevention. Abstinence-only education is also particularly harmful to gay and lesbian teens; many of the materials in abstinence-only educational curricula are openly hostile to gays and lesbians.
Entangle Government and Religion – The reauthorization scheme would retain controversial "charitable choice" provisions that were originally included in the 1996 legislation and threaten religious liberty. These provisions would allow expressly religious organizations to receive federal funds to implement welfare programs without sufficient regulations to prevent discrimination either in employment or in the provision of services. The Clinton Administration never fully implemented the 1996 law's charitable choice provisions. The Bush Administration, however, is expected to fully use the provision to allow pervasively sectarian religious organizations, including houses of worship, to contract with a state to administer taxpayer funded welfare programs. These religious contractors would be allowed to provide their services in a sectarian fashion replete with religious symbols and activity – and quite possibly open discrimination and violation of civil rights.

More information about the ACLU positions on welfare reform can be found at:
/node/20951
Stay Informed
Every month, you'll receive regular roundups of the most important civil rights and civil liberties developments. Remember: a well-informed citizenry is the best defense against tyranny.
By completing this form, I agree to receive occasional emails per the terms of the ACLU's privacy policy.
The Latest in Smart Justice
ACLU's Vision
The American Civil Liberties Union is a nonprofit organization whose mission is to defend and preserve the individual rights and liberties guaranteed to every person in this country by the Constitution and laws of the United States of America.
Learn More About Smart Justice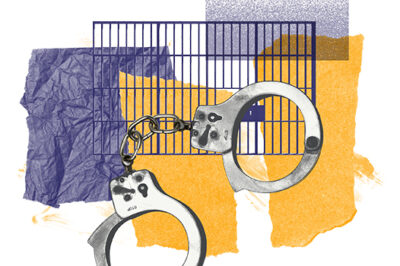 The ACLU Campaign for Smart Justice is an unprecedented, multiyear effort to reduce the U.S. jail and prison population by 50% and to challenge racism in the criminal legal system.