Impairing Education: Corporal Punishment of Students with Disabilities in US Public Schools
Students with disabilities face corporal punishment in public schools at disproportionately high rates according to a new report by the ACLU and Human Rights Watch. Corporal punishment — ranging from paddling to smacking to throwing children into walls — can worsen these students' medical conditions and undermine their education. Students with disabilities are entitled to appropriate, inclusive educational programs that give them the opportunity to thrive. No child should be hit, especially the most vulnerable.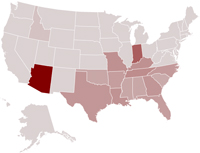 Corporal punishment causes pain, humiliation, and in some cases deep bruising or other serious injury; it also can have long-lasting psychological consequences. Students with disabilities may see their underlying conditions worsened as a result. Furthermore, it creates a violent, degrading school environment in which all students – and particularly students with disabilities -- may struggle to succeed. The American Civil Liberties Union and Human Rights Watch call on the federal government and US states to prohibit corporal punishment. School districts should replace corporal punishment with effective, positive forms of discipline, so that children's human rights are protected, and so that every student throughout the United States can maximize his or her academic potential.
Author: Alice Farmer (@ahsfarmer)
Press Coverage: The New York Times | CNN | BET | Reuters | The Wall Street Journal | USA Today | USA Today
Articles/Blogs Written By Author: "Stop Beating Students with Disabilities in Schools" - The Huffington Post | "Stop Beating Students with Disabilities in Schools" - ACLU | "Ohio Bans Corporal Punishment" - ACLU | "Stop Beating Children in Schools" - ACLU | "End Abusive, Discriminatory Discipline in Schools: Give All Students a Chance to Thrive" - ACLU | "Corporal punishment proves to be discriminatory, ineffective" - Human Rights Watch
Related Advocacy/Litigation: Ten Steps Against Corporal Punishment | Advocacy Letter: Ohio | Testimony: Dennis D. Parker - Before the United Nations Forum on Minority Issues Minorities and the Right to Education (12/15/2008) | Students with Disabilities Face Corporal Punishment at Higher Rates
CLICK HERE TO READ THE PRESS RELEASE
CLICK HERE FOR MORE RESOURCES ON CORPORAL PUNISHMENT OF CHILDREN IN THE U.S.