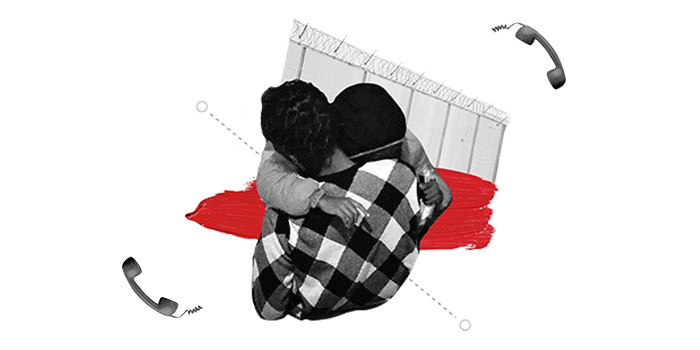 Jennings v. Rodriguez
Status:
Closed (Judgment)
Last Update:
February 27, 2018
What's at Stake
Whether it violates the Constitution and the immigration laws to subject immigrants in deportation proceedings to long-term detention without individualized bond hearings.
Summary
This case challenges the government's practice of detaining immigrants facing deportation proceedings for months or years without due process, including many long-term green-card holders and asylum seekers.
The Ninth Circuit ruled that the government must provide individualized bond hearings to assess danger and flight risk when detention exceeds six months, and every six months thereafter. The decision agreed with the ACLU, which represents plaintiffs. The case will be heard in the Supreme Court on Nov. 30, 2016. The Court's ruling could affect thousands of immigration detainees across the country.
Prolonged detention of such immigrants is a massive waste of taxpayer dollars, at a daily cost of $164 per detainee per day, and more than $2 billion a year. In America, no one should be locked up for months or years without a hearing to determine if their detention is even justified.
For further background on the case, please see the case page Rodriguez, et al. v. Robbins, et al., originally filed in a federal district court in Los Angeles in 2007.
Counsel for plaintiffs are the American Civil Liberties Union of Southern California, American Civil Liberties Union's Immigrants' Rights Project, the Stanford Law School Immigrants' Rights Clinic, and Sidley Austin LLP.
For more information on people affected by prolonged immigration detention, see these stories.
Legal Documents
02/27/2018


Opinion

Opinion

Date Filed: 02/27/2018

Court: The Supreme Court of the United States

Download Document

08/14/2017




Amicus Briefs

Amicus Brief of Asian Americans Advancing Justice

Date Filed: 10/24/2016

Court: The Supreme Court of the United States

Download Document

Amicus Brief of American Bar Association

Date Filed: 10/24/2016

Court: The Supreme Court of the United States

Download Document

Amicus Brief of American Immigration Council

Date Filed: 10/24/2016

Court: The Supreme Court of the United States

Download Document

Amicus Brief of Americans for Immigrant Justice et al.

Date Filed: 10/24/2016

Court: The Supreme Court of the United States

Download Document

Amicus Brief of Detained Legal Services Providers

Date Filed: 10/24/2016

Court: The Supreme Court of the United States

Download Document

Amicus Brief of Human Rights First

Date Filed: 10/24/2016

Court: The Supreme Court of the United States

Download Document

Amicus Brief of National Association of Criminal Defense Lawyers et al.

Date Filed: 10/24/2016

Court: The Supreme Court of the United States

Download Document

Amicus Brief of Nine Retired Immigrant Judges and Board of Immigration Appeals Members

Date Filed: 10/24/2016

Court: The Supreme Court of the United States

Download Document

Amicus Brief of National Immigration Project of the National Lawyers' Guild and Immigrant Legal Resource Center

Amicus Brief of National Immigration Project of the National Lawyers' Guild and Immigrant Legal Resource Center

Date Filed: 10/24/2016

Court: The Supreme Court of the United States

Download Document

Amicus Brief of Professors of Consitutional, Immigration and Administrative Law

Date Filed: 10/24/2016

Court: The Supreme Court of the United States

Download Document

Amicus Brief of Social Scientists

Date Filed: 10/24/2016

Court: The Supreme Court of the United States

Download Document

Amicus Brief of UNHCR

Date Filed: 10/24/2016

Court: The Supreme Court of the United States

Download Document

10/24/2016




Other Legal Documents

Respondents' Brief - Jennings v. Rodriguez

Date Filed: 10/18/2016

Court: The Supreme Court of the United States

Download Document
Support our on-going litigation and work in the courts
Donate now
Learn More About the Issues in This Case