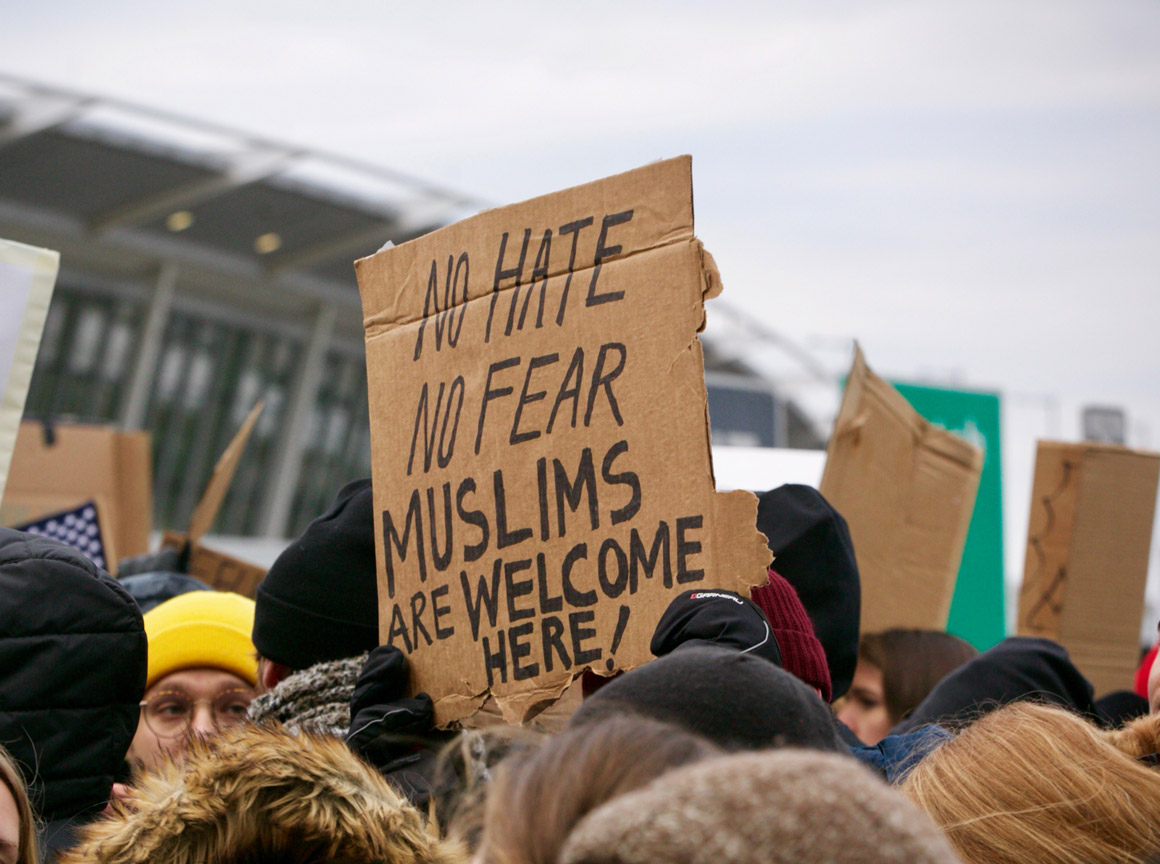 Wagafe v. USCIS - Lawsuit Challenging Secret Program Blocking Immigrant Applications
Last Update:
October 23, 2023
What's at Stake
The ACLU and its affiliates in Southern California and Washington, the Northwest Immigrant Rights Project, the National Immigration Project of the National Lawyers Guild, the Law Offices of Stacy Tolchin, and Perkins Coie LLP filed a class action lawsuit in January 2017 challenging a federal government program used to deny or indefinitely delay thousands of law-abiding people—many of them from Muslim-majority countries—from becoming citizens or lawful residents due to unspecified "national security concerns."
Summary
The lawsuit challenges the Controlled Application Review and Resolution Program (CARRP), adopted in 2008 by the U.S. Citizenship and Immigration Service (USCIS), the agency within the Department of Homeland Security that reviews and adjudicates immigration applications. The case, filed in the U.S. District Court for the Western District of Washington, was brought on behalf of two certified classes: people who applied for either naturalization or adjustment of status, and whose applications were subject to CARRP and have been pending before USCIS for over six months.
The Constitution assigns to Congress, not the executive branch, the authority to establish uniform rules for naturalization of new citizens. The Immigration and Nationality Act (INA) sets forth those rules, along with criteria for becoming a lawful permanent resident of the United States. When those rules and criteria have been met, as they have in our clients' cases, the government must grant the applications.
In adopting CARRP, USCIS has ignored these requirements and established a separate set of rules for applicants deemed to present a "national security concern." CARRP's definition of a "national security concern," however, is far more expansive than the ineligibility criteria specified by Congress in the INA. For example, CARRP automatically applies to anyone whose name is on the government's Terrorist Watchlist, which has been reported to include as many as a million names. The government's guidelines for including people on the watchlist are vague and overbroad, particularly for non-citizens. A non-citizen can end up on the watchlist simply because he or she is "associated" with someone already on the watchlist, even where there is nothing to indicate any involvement in the watchlisted person's purportedly suspicious activities. The guidelines also specifically state that non-citizens can be watchlisted based on fragmentary, uncorroborated information of questionable reliability. In this way, CARRP brands innocent, law-abiding U.S. residents, like our clients, as "national security concerns" based on innocuous activity and associations.
CARRP is illegal and unconstitutional. It was adopted without any congressional approval or public comment, and it violates the Fifth Amendment's guarantee of due process. The aspiring Americans whose applications the government denies under the program are not told why or given a meaningful opportunity to clear their names. This is fundamentally unfair.
Legal Documents
Plaintiffs' Opposition to Defendants' Motion to Dismiss for Lack of Jurisdiction

Date Filed: 10/23/2023

Court: District Court (W.D. Wash.)

Affiliate: Southern California, Washington

Download Document

10/02/2023


Joint Status Report

Joint Status Report

Date Filed: 10/02/2023

Court: District Court (W.D. Wash.)

Affiliate: Southern California, Washington

Download Document

Defendants' Motion to Dismiss for Lack of Jurisdiction

Date Filed: 09/26/2023

Court: District Court (W.D. Wash.)

Affiliate: Southern California, Washington

Download Document

Court Order Granting Defendants' Motion for Leave to File a Motion to Dismiss

Date Filed: 09/12/2023

Court: District Court (W.D. Wash.)

Affiliate: Southern California, Washington

Download Document

09/07/2023


Court Order on Public Access to Filings

Court Order on Public Access to Filings

Date Filed: 09/07/2023

Court: District Court (W.D. Wash.)

Affiliate: Southern California, Washington

Download Document

Defendants' Reply in Support of Their Motion for Leave to File a Motion to Dismiss

Date Filed: 08/18/2023

Court: District Court (W.D. Wash.)

Affiliate: Southern California, Washington

Download Document

Plaintiffs' Opposition to Defendants' Motion for Leave to File a Motion to Dismiss

Date Filed: 08/14/2023

Court: District Court (W.D. Wash.)

Affiliate: Southern California, Washington

Download Document

Defendants' Motion for Leave to File a Motion to Dismiss

Date Filed: 08/01/2023

Court: District Court (W.D. Wash.)

Affiliate: Southern California, Washington

Download Document

07/25/2023


Joint Status Report

Joint Status Report

Date Filed: 07/25/2023

Court: District Court (W.D. Wash.)

Affiliate: Southern California, Washington

Download Document

04/18/2023


Joint Status Report

Joint Status Report

Date Filed: 04/18/2023

Court: District Court (W.D. Wash.)

Affiliate: Southern California, Washington

Download Document

01/26/2023


Joint Status Report

Joint Status Report

Date Filed: 01/26/2023

Court: District Court (W.D. Wash.)

Affiliate: Southern California, Washington

Download Document

Stipulated Order Staying Adjudication of Adjustment Class Claims

Date Filed: 10/28/2022

Court: District Court (W.D. Wash.)

Affiliate: Southern California, Washington

Download Document

Joint Response to Order to Consolidate Positions on Sealing

Date Filed: 09/30/2022

Court: District Court (W.D. Wash.)

Affiliate: Southern California, Washington

Download Document

07/08/2022


Joint Status Report

Joint Status Report

Date Filed: 07/08/2022

Court: District Court (W.D. Wash.)

Affiliate: Southern California, Washington

Download Document

Defs' Status Report on Progress for Completing Policy Review of CARRP

Date Filed: 05/02/2022

Court: District Court (W.D. Wash.)

Affiliate: Southern California, Washington

Download Document

Defs' Response to Pls' Unopposed Motion for Reconsideration of Feb. 22, 2022 Order

Date Filed: 04/04/2022

Court: District Court (W.D. Wash.)

Affiliate: Southern California, Washington

Download Document

Order Granting Pls' Unopposed Motion for Reconsideration of Feb. 22, 2022 Order

Date Filed: 03/14/2022

Court: District Court (W.D. Wash.)

Affiliate: Southern California, Washington

Download Document

Pls' Unopposed Motion to Reconsider Feb. 22, 2022 Order

Date Filed: 03/04/2022

Court: District Court (W.D. Wash.)

Affiliate: Southern California, Washington

Download Document

02/22/2022


Stipulated Order for a Stay

Stipulated Order for a Stay

Date Filed: 02/22/2022

Court: District Court (W.D. Wash.)

Affiliate: Southern California, Washington

Download Document

Order Striking Motions to Seal and Ordering Parties to Consolidate Positions on Sealing

Date Filed: 01/31/2022

Court: District Court (W.D. Wash.)

Affiliate: Southern California, Washington

Download Document

Pls' Request for Order Instructing Parties to File Redacted Versions of Sealed Documents

Date Filed: 01/31/2022

Court: District Court (W.D. Wash.)

Affiliate: Southern California, Washington

Download Document

Defs' Reply in Support of Their Motion to Seal Their Reply Brief

Date Filed: 07/23/2021

Court: District Court (W.D. Wash.)

Affiliate: Southern California, Washington

Download Document

07/19/2021


Pls' Opposition to Defs' Motion to Seal Defs' Reply in Support of Cross-Motion for Summary Judgement

Pls' Opposition to Defs' Motion to Seal Defs' Reply in Support of Cross-Motion for Summary Judgement

Date Filed: 07/19/2021

Court: District Court (W.D. Wash.)

Affiliate: Southern California, Washington

Download Document

Joint Stipulation Regarding Publicly Filing Redacted Versions of Sealed Documents

Date Filed: 07/15/2021

Court: District Court (W.D. Wash.)

Affiliate: Southern California, Washington

Download Document

07/02/2021


Pls' Reply in Support of Their Motion to Seal Summary Judgment and Opposition to Defs' Cross-Motion for Summary Judgment

Pls' Reply in Support of Their Motion to Seal Summary Judgment and Opposition to Defs' Cross-Motion for Summary Judgment

Date Filed: 07/02/2021

Court: District Court (W.D. Wash.)

Affiliate: Southern California, Washington

Download Document

Defs' Motion to Seal Reply in Support of Their Cross-Motion for Summary Judgment

Date Filed: 07/02/2021

Court: District Court (W.D. Wash.)

Affiliate: Southern California, Washington

Download Document

Declaration of Manning Evans in Support of Defs' Summary Judgment Reply

Date Filed: 07/02/2021

Court: District Court (W.D. Wash.)

Affiliate: Southern California, Washington

Download Document

Defs' Response to Pls' Motion to Seal Pls' Reply Brief and Supporting Documents

Date Filed: 06/28/2021

Court: District Court (W.D. Wash.)

Affiliate: Southern California, Washington

Download Document

06/24/2021


Defs' Opposition to Brief of Amici in Support of Pls' Opposition to Defs' Cross-Motion for Summary Judgment

Defs' Opposition to Brief of Amici in Support of Pls' Opposition to Defs' Cross-Motion for Summary Judgment

Date Filed: 06/24/2021

Court: District Court (W.D. Wash.)

Affiliate: Southern California, Washington

Download Document

06/11/2021


Declaration of Liga Chia in Support of Pls' Motion for Summary Judgment and in Opposition to Defs' Cross-Motion for Summary Judgment

Declaration of Liga Chia in Support of Pls' Motion for Summary Judgment and in Opposition to Defs' Cross-Motion for Summary Judgment

Date Filed: 06/11/2021

Court: District Court (W.D. Wash.)

Affiliate: Southern California, Washington

Download Document

Declaration of Heath Hyatt in Support of Pls' Motion for Summary Judgment

Date Filed: 06/11/2021

Court: District Court (W.D. Wash.)

Affiliate: Southern California, Washington

Download Document

06/11/2021


Second Declaration of Jennifer Pasquarella in Support of Pls' Motion for Summary Judgment

Second Declaration of Jennifer Pasquarella in Support of Pls' Motion for Summary Judgment

Date Filed: 06/11/2021

Court: District Court (W.D. Wash.)

Affiliate: Southern California, Washington

Download Document

06/11/2021


Pls' Motion to Seal Pls' Reply in Support of Motion for Summary Judgment and Opposition to Defs' Cross-Motion for Summary Judgment

Pls' Motion to Seal Pls' Reply in Support of Motion for Summary Judgment and Opposition to Defs' Cross-Motion for Summary Judgment

Date Filed: 06/11/2021

Court: District Court (W.D. Wash.)

Affiliate: Southern California, Washington

Download Document

06/04/2021


Defs' Letter to Court Correcting Exhibits 9 and 37 Filed Under Seal for the Declaration of W. Mannings on May 4, 2021

Defs' Letter to Court Correcting Exhibits 9 and 37 Filed Under Seal for the Declaration of W. Mannings on May 4, 2021

Date Filed: 06/04/2021

Court: District Court (W.D. Wash.)

Affiliate: Southern California, Washington

Download Document

06/04/2021


Defs' Letter to Court Correcting Exhibit 9 for the Declaration of W. Manning Evans on May 4, 2021

Defs' Letter to Court Correcting Exhibit 9 for the Declaration of W. Manning Evans on May 4, 2021

Date Filed: 06/04/2021

Court: District Court (W.D. Wash.)

Affiliate: Southern California, Washington

Download Document

05/21/2021


Defs' Reply To Pls' Opposition to the Motion to Seal Documents in Support of Defs' Opposition To Pls' Motion for Summary Judgment and Cross-Motion for Summary Judgment

Defs' Reply To Pls' Opposition to the Motion to Seal Documents in Support of Defs' Opposition To Pls' Motion for Summary Judgment and Cross-Motion for Summary Judgment

Date Filed: 05/21/2021

Court: District Court (W.D. Wash.)

Affiliate: Southern California, Washington

Download Document

Defs' Reply to Pls' Opposition to Defs' Motion to Treat Document as Highly Sensitive

Date Filed: 05/21/2021

Court: District Court (W.D. Wash.)

Affiliate: Southern California, Washington

Download Document

05/18/2021


Pls' Opposition to Defs' Motion to Seal Defs' Opposition and Cross-Motion for Summary Judgment

Pls' Opposition to Defs' Motion to Seal Defs' Opposition and Cross-Motion for Summary Judgment

Date Filed: 05/18/2021

Court: District Court (W.D. Wash.)

Affiliate: Southern California, Washington

Download Document

05/04/2021


Declaration of W. Manning Evans in Support of Defs' Motion for Summary Judgment and in Opposition to Pls' Motion for Summary Judgment

Declaration of W. Manning Evans in Support of Defs' Motion for Summary Judgment and in Opposition to Pls' Motion for Summary Judgment

Date Filed: 05/04/2021

Court: District Court (W.D. Wash.)

Affiliate: Southern California, Washington

Download Document

05/04/2021


Declaration of Russell L. Webb in Support of Defs' Motion for Summary Judgment and in Opposition to Pls' Motion for Summary Judgment

Declaration of Russell L. Webb in Support of Defs' Motion for Summary Judgment and in Opposition to Pls' Motion for Summary Judgment

Date Filed: 05/04/2021

Court: District Court (W.D. Wash.)

Affiliate: Southern California, Washington

Download Document

05/04/2021


Declaration of Daniel Renaud in Support of Defs' Motion for Summary Judgment and in Opposition to Pls' Motion for Summary Judgment

Declaration of Daniel Renaud in Support of Defs' Motion for Summary Judgment and in Opposition to Pls' Motion for Summary Judgment

Date Filed: 05/04/2021

Court: District Court (W.D. Wash.)

Affiliate: Southern California, Washington

Download Document

05/04/2021


Declaration of Matthew Relph in Support of Defs' Motion for Summary Judgment and in Opposition to Pls' Motion for Summary Judgment

Declaration of Matthew Relph in Support of Defs' Motion for Summary Judgment and in Opposition to Pls' Motion for Summary Judgment

Date Filed: 05/04/2021

Court: District Court (W.D. Wash.)

Affiliate: Southern California, Washington

Download Document

05/04/2021


Declaration of Kevin Quinn in Support of Defs' Motion for Summary Judgment and in Opposition to Pls' Motion for Summary Judgment

Declaration of Kevin Quinn in Support of Defs' Motion for Summary Judgment and in Opposition to Pls' Motion for Summary Judgment

Date Filed: 05/04/2021

Court: District Court (W.D. Wash.)

Affiliate: Southern California, Washington

Download Document

05/04/2021


Decl. of Ronald Alan Atkinson in Support of Defs' Motion for Summary Judgment and in Opposition to Pls' Motion for Summary Judgment

Decl. of Ronald Alan Atkinson in Support of Defs' Motion for Summary Judgment and in Opposition to Pls' Motion for Summary Judgment

Date Filed: 05/04/2021

Court: District Court (W.D. Wash.)

Affiliate: Southern California, Washington

Download Document

05/04/2021


Declaration of W. Mannings in Support of Defs' Consolidated Memo of Points and Authorities in Opposition to Pls' Motion for Summary Judgment and in Support of Defs' Cross-Motion for Summary Judgment

Declaration of W. Mannings in Support of Defs' Consolidated Memo of Points and Authorities in Opposition to Pls' Motion for Summary Judgment and in Support of Defs' Cross-Motion for Summary Judgment

Date Filed: 05/04/2021

Court: District Court (W.D. Wash.)

Affiliate: Southern California, Washington

Download Document

Defs' Reply in Support of Motion to Exclude Opinions of Sean Kruskol (Redacted)

Date Filed: 04/09/2021

Court: District Court (W.D. Wash.)

Affiliate: Southern California, Washington

Download Document

Defs' Reply in Support of Motion to Exclude Opinions of Arastu, Gairson, and Ragland

Date Filed: 04/09/2021

Court: District Court (W.D. Wash.)

Affiliate: Southern California, Washington

Download Document

Pls' Reply in Support of Motion to Exclude Opinions of Bernard Siskin

Date Filed: 04/09/2021

Court: District Court (W.D. Wash.)

Affiliate: Southern California, Washington

Download Document

Pls' Opposition to Motion to Exclude Opinions of Arastu, Gairson, and Ragland (Redacted)

Date Filed: 04/05/2021

Court: District Court (W.D. Wash.)

Affiliate: Southern California, Washington

Download Document

Pls' Opposition Motion to Exclude Opinions of Sean Kruskol (Redacted)

Date Filed: 04/05/2021

Court: District Court (W.D. Wash.)

Affiliate: Southern California, Washington

Download Document

Defs' Opposition to Motion to Exclude Opinions of Bernard Siskin (Redacted)

Date Filed: 04/05/2021

Court: District Court (W.D. Wash.)

Affiliate: Southern California, Washington

Download Document

Defs' Motion to Exclude Testimony of Arastu, Gairson, and Ragland

Date Filed: 03/25/2021

Court: District Court (W.D. Wash.)

Affiliate: Southern California, Washington

Download Document

Defs' Motion to Exclude Opinions of Sean Kruskol (Redacted)

Date Filed: 03/25/2021

Court: District Court (W.D. Wash.)

Affiliate: Southern California, Washington

Download Document

Pls' Motion to Exclude Opinions of Bernard Siskin (Redacted)

Date Filed: 03/25/2021

Court: District Court (W.D. Wash.)

Affiliate: Southern California, Washington

Download Document

02/26/2021


Order Granting Defs' Motion to Reconsider

Order Granting Defs' Motion to Reconsider

Date Filed: 02/26/2021

Court: District Court (W.D. Wash.)

Affiliate: Southern California, Washington

Download Document

Defs' Redacted Motion to Reconsider Feb. 1, 2021 Order

Date Filed: 02/16/2021

Court: District Court (W.D. Wash.)

Affiliate: Southern California, Washington

Download Document

02/01/2021


Order

Order

Date Filed: 02/01/2021

Court: District Court (W.D. Wash.)

Affiliate: Southern California, Washington

Download Document

12/16/2020


Defs' Letter to Court re Correcting Inaccuracies in Defs' Response to Pls' Motion to Compel (Dkt 431)

Defs' Letter to Court re Correcting Inaccuracies in Defs' Response to Pls' Motion to Compel (Dkt 431)

Date Filed: 12/16/2020

Court: District Court (W.D. Wash.)

Affiliate: Southern California, Washington

Download Document

Order Grating Pls' Motions to Compel Statistical Data

Date Filed: 12/01/2020

Court: District Court (W.D. Wash.)

Affiliate: Southern California, Washington

Download Document

10/26/2020


Defs' Response in Opposition to Pls Motion to Compel Statistical Data Under Fed.R.Civ.P. 37(a)(3)

Defs' Response in Opposition to Pls Motion to Compel Statistical Data Under Fed.R.Civ.P. 37(a)(3)

Date Filed: 10/26/2020

Court: District Court (W.D. Wash.)

Affiliate: Southern California, Washington

Download Document

Pls' Motion to Compel Statistical Data Under Federal Rule of Civil Procedure 37(a)(3)

Date Filed: 10/20/2020

Court: District Court (W.D. Wash.)

Affiliate: Southern California, Washington

Download Document

09/25/2020


Nicholas Gellert's Declaration in Support of Plaintiffs' Motion in Opposition to Defendants' Motion for Leave to Take Additional Depositions

Nicholas Gellert's Declaration in Support of Plaintiffs' Motion in Opposition to Defendants' Motion for Leave to Take Additional Depositions

Date Filed: 09/25/2020

Court: District Court (W.D. Wash.)

Affiliate: Southern California, Washington

Download Document

Pls' Opposition to Defs' Motion for Leave to Take Additional Depositions

Date Filed: 09/25/2020

Court: District Court (W.D. Wash.)

Affiliate: Southern California, Washington

Download Document

Defs' Motion for Leave to Take Additional Depositions

Date Filed: 09/17/2020

Court: District Court (W.D. Wash.)

Affiliate: Southern California, Washington

Download Document

Pls' Reply to Motion to Exclude Untimely Disclosed Witnesses

Date Filed: 08/21/2020

Court: District Court (W.D. Wash.)

Affiliate: Southern California, Washington

Download Document

08/17/2020


Declaration of Jesse Busen in Support of Defs' Opposition to Pls' Motion to Exclude Untimely Disclosed Witnesses

Declaration of Jesse Busen in Support of Defs' Opposition to Pls' Motion to Exclude Untimely Disclosed Witnesses

Date Filed: 08/17/2020

Court: District Court (W.D. Wash.)

Affiliate: Southern California, Washington

Download Document

Defs' Opposition to Pls' Motion to Exclude Untimely Disclosed Witnesses

Date Filed: 08/17/2020

Court: District Court (W.D. Wash.)

Affiliate: Southern California, Washington

Download Document

08/06/2020


Declaration of Nicholas Gellert in Support of Pls' Motion to Exclude Untimely Disclosed Witnesses

Declaration of Nicholas Gellert in Support of Pls' Motion to Exclude Untimely Disclosed Witnesses

Date Filed: 08/06/2020

Court: District Court (W.D. Wash.)

Affiliate: Southern California, Washington

Download Document

Pls' Motion to Exclude Untimely Disclosed Witnesses

Date Filed: 08/06/2020

Court: District Court (W.D. Wash.)

Affiliate: Southern California, Washington

Download Document

07/17/2020


Declaration of Victoria Braga in Support of Defs' Response to Pls' Supplemental Brief Re: Outstanding Discovery Disputes

Declaration of Victoria Braga in Support of Defs' Response to Pls' Supplemental Brief Re: Outstanding Discovery Disputes

Date Filed: 07/17/2020

Court: District Court (W.D. Wash.)

Affiliate: Southern California, Washington

Download Document

Defs' Response to Pls' Supplemental Brief Re: Outstanding Discovery Disputes

Date Filed: 07/17/2020

Court: District Court (W.D. Wash.)

Affiliate: Southern California, Washington

Download Document

07/10/2020


Declaration of Paige Whidbee in Support of Pls' Supplemental Brief Regarding Outstanding Discovery Disputes

Declaration of Paige Whidbee in Support of Pls' Supplemental Brief Regarding Outstanding Discovery Disputes

Date Filed: 07/10/2020

Court: District Court (W.D. Wash.)

Affiliate: Southern California, Washington

Download Document

Pls' Redacted Supplemental Brief Regarding Outstanding Discovery Disputes

Date Filed: 07/10/2020

Court: District Court (W.D. Wash.)

Affiliate: Southern California, Washington

Download Document

02/04/2020


Defs' Response to Pls' Motion to Compel Documents Withheld Under the Law Enforcement and Deliberative Process Privileges

Defs' Response to Pls' Motion to Compel Documents Withheld Under the Law Enforcement and Deliberative Process Privileges

Date Filed: 02/04/2020

Court: District Court (W.D. Wash.)

Affiliate: Southern California, Washington

Download Document

02/03/2020


Defs' Response to Pls' Motion to Seal Hyatt Declaration and Motion to Compel Named Pls' A-Files

Defs' Response to Pls' Motion to Seal Hyatt Declaration and Motion to Compel Named Pls' A-Files

Date Filed: 02/03/2020

Court: District Court (W.D. Wash.)

Affiliate: Southern California, Washington

Download Document

Pls' Reply in Support of Motion to Compel Named Pls' A-File Information

Date Filed: 01/27/2020

Court: District Court (W.D. Wash.)

Affiliate: Southern California, Washington

Download Document

01/24/2020


Pls' Reply in Support of Motion for Court Permission to Interview Limited Number of Persons Who Suspect They Have Been Subjected to CARRP

Pls' Reply in Support of Motion for Court Permission to Interview Limited Number of Persons Who Suspect They Have Been Subjected to CARRP

Date Filed: 01/24/2020

Court: District Court (W.D. Wash.)

Affiliate: Southern California, Washington

Download Document

Defs' Opposition to Pls' Motion to Compel Name Pls' A-File Information

Date Filed: 01/21/2020

Court: District Court (W.D. Wash.)

Affiliate: Southern California, Washington

Download Document

Defs' Opposition to Pls' Motion to Interview Persons Who Responded to Pls' Class Notice

Date Filed: 01/21/2020

Court: District Court (W.D. Wash.)

Affiliate: Southern California, Washington

Download Document

Order Granting in Part and Denying in Part Pls' Motion to Compel Documents

Date Filed: 01/16/2020

Court: District Court (W.D. Wash.)

Affiliate: Southern California, Washington

Download Document

01/10/2020


Exhibit A-F

Exhibit A-F

Date Filed: 01/10/2020

Court: District Court (W.D. Wash.)

Affiliate: Southern California, Washington

Download Document

Pls' Motion to Compel Named Plaintiffs' A-File Information

Date Filed: 01/09/2020

Court: District Court (W.D. Wash.)

Affiliate: Southern California, Washington

Download Document

01/09/2020


Declaration of Heath Hyatt in Support of Pls' Motion to Compel Documents Withheld Re: Deliberative Process Privilege

Declaration of Heath Hyatt in Support of Pls' Motion to Compel Documents Withheld Re: Deliberative Process Privilege

Date Filed: 01/09/2020

Court: District Court (W.D. Wash.)

Affiliate: Southern California, Washington

Download Document

Pls' Motion to Compel Documents Withheld Re: Deliberative Process Privilege

Date Filed: 01/09/2020

Court: District Court (W.D. Wash.)

Affiliate: Southern California, Washington

Download Document

01/09/2020


Declaration of Cristina Sepe in Support of Pls' Motion for Court Permission to Interview Limited Number of Persons

Declaration of Cristina Sepe in Support of Pls' Motion for Court Permission to Interview Limited Number of Persons

Date Filed: 01/09/2020

Court: District Court (W.D. Wash.)

Affiliate: Southern California, Washington

Download Document

Pls' Motion for Court Permission to Interview Limited Number of Persons

Date Filed: 01/09/2020

Court: District Court (W.D. Wash.)

Affiliate: Southern California, Washington

Download Document

11/08/2019


Defs' Reply in Support of Motion to Compel

Defs' Reply in Support of Motion to Compel

Date Filed: 11/08/2019

Court: District Court (W.D. Wash.)

Affiliate: Southern California, Washington

Download Document

11/04/2019


Pls' Opposition to Defs' Motion to Compel

Pls' Opposition to Defs' Motion to Compel

Date Filed: 11/04/2019

Court: District Court (W.D. Wash.)

Affiliate: Southern California, Washington

Download Document

10/24/2019


Order Amending Trial Dates

Order Amending Trial Dates

Date Filed: 10/24/2019

Court: District Court (W.D. Wash.)

Affiliate: Southern California, Washington

Download Document

10/18/2019


Defs' Motion to Compel

Defs' Motion to Compel

Date Filed: 10/18/2019

Court: District Court (W.D. Wash.)

Affiliate: Southern California, Washington

Download Document

10/11/2019


Index for Certified Administrative Record

Index for Certified Administrative Record

Date Filed: 10/11/2019

Court: District Court (W.D. Wash.)

Affiliate: Southern California, Washington

Download Document

Order on Pls' Motion to Compel and Defs' Cross-Motion for Protective Order

Date Filed: 07/09/2019

Court: District Court (W.D. Wash.)

Affiliate: Southern California, Washington

Download Document

Order Granting Defs' Request to File Declarations Ex Parte, In Camera

Date Filed: 06/03/2019

Court: District Court (W.D. Wash.)

Affiliate: Southern California, Washington

Download Document

05/17/2019


Defs' Reply to Pls' Opposition to Defs' Motion for Leave to Submit Documents Ex Parte, In Camera

Defs' Reply to Pls' Opposition to Defs' Motion for Leave to Submit Documents Ex Parte, In Camera

Date Filed: 05/17/2019

Court: District Court (W.D. Wash.)

Affiliate: Southern California, Washington

Download Document

Pls' Opposition to Defs' Motion for Leave to Submit Documents Ex Parte, In Camera

Date Filed: 05/13/2019

Court: District Court (W.D. Wash.)

Affiliate: Southern California, Washington

Download Document

Pls' Reply In Support of Pls' Motion to Compel

Date Filed: 05/03/2019

Court: District Court (W.D. Wash.)

Affiliate: Southern California, Washington

Download Document

04/26/2019


Defs' Opposition to Pls' Motion to Compel

Defs' Opposition to Pls' Motion to Compel

Date Filed: 04/26/2019

Court: District Court (W.D. Wash.)

Affiliate: Southern California, Washington

Download Document

Order Denying Pls' Motion to Compel and Granting Defs' Motion for Reconsideration

Date Filed: 04/23/2019

Court: District Court (W.D. Wash.)

Affiliate: Southern California, Washington

Download Document

04/11/2019


Declaration of Sameer Ahmed

Declaration of Sameer Ahmed

Date Filed: 04/11/2019

Court: District Court (W.D. Wash.)

Affiliate: Southern California, Washington

Download Document

Plaintiff's Motion to Compel Documents re Deliberative Process Privilege

Date Filed: 04/11/2019

Court: District Court (W.D. Wash.)

Affiliate: Southern California, Washington

Download Document

04/04/2019


Second Declaration of Jill Eggleston

Second Declaration of Jill Eggleston

Date Filed: 04/04/2019

Court: District Court (W.D. Wash.)

Affiliate: Southern California, Washington

Download Document

Defs' Reply in Support of Cross-Motion for Protective Order

Date Filed: 04/04/2019

Court: District Court (W.D. Wash.)

Affiliate: Southern California, Washington

Download Document

Defs' Reply in Support of Pls' Motion to Seal

Date Filed: 04/01/2019

Court: District Court (W.D. Wash.)

Affiliate: Southern California, Washington

Download Document

03/27/2019


Defs' Response in Opposition to Pls' Supplemental Brief in Support of Motion for Sanctions

Defs' Response in Opposition to Pls' Supplemental Brief in Support of Motion for Sanctions

Date Filed: 03/27/2019

Court: District Court (W.D. Wash.)

Affiliate: Southern California, Washington

Download Document

Defs' Reply to Response to Motion for Leave to Submit Documents Ex Parte In Camera

Date Filed: 03/22/2019

Court: District Court (W.D. Wash.)

Affiliate: Southern California, Washington

Download Document

03/21/2019


Declaration of Jay Gairson

Declaration of Jay Gairson

Date Filed: 03/21/2019

Court: District Court (W.D. Wash.)

Affiliate: Southern California, Washington

Download Document

03/21/2019


Declaration of Sameer Ahmed in Support of Pls' Reply to its Motion to Compel and Opposition to Defs' Cross-Motion for a Protective Order

Declaration of Sameer Ahmed in Support of Pls' Reply to its Motion to Compel and Opposition to Defs' Cross-Motion for a Protective Order

Date Filed: 03/21/2019

Court: District Court (W.D. Wash.)

Affiliate: Southern California, Washington

Download Document

03/21/2019


Pls' Reply in Support of Motion to Compel and Opposition to Defs' Cross-Motion for a Protective Order

Pls' Reply in Support of Motion to Compel and Opposition to Defs' Cross-Motion for a Protective Order

Date Filed: 03/21/2019

Court: District Court (W.D. Wash.)

Affiliate: Southern California, Washington

Download Document

03/21/2019


Motion to Seal Pls' Reply to Motion to Compel and Opposition to Defs' Cross-Motion for a Protective Order

Motion to Seal Pls' Reply to Motion to Compel and Opposition to Defs' Cross-Motion for a Protective Order

Date Filed: 03/21/2019

Court: District Court (W.D. Wash.)

Affiliate: Southern California, Washington

Download Document

Pls' Opposition to Defs' Motion for Leave to Submit Docs Ex Parte, In Camera

Date Filed: 03/18/2019

Court: District Court (W.D. Wash.)

Affiliate: Southern California, Washington

Download Document

03/13/2019


Declaration of Trina Realmuto

Declaration of Trina Realmuto

Date Filed: 03/13/2019

Court: District Court (W.D. Wash.)

Affiliate: Southern California, Washington

Download Document

03/13/2019


Declaration of Stacy Tolchin

Declaration of Stacy Tolchin

Date Filed: 03/13/2019

Court: District Court (W.D. Wash.)

Affiliate: Southern California, Washington

Download Document

03/13/2019


Declaration of Sameer Ahmed

Declaration of Sameer Ahmed

Date Filed: 03/13/2019

Court: District Court (W.D. Wash.)

Affiliate: Southern California, Washington

Download Document

03/13/2019


Declaration of Matt Adams

Declaration of Matt Adams

Date Filed: 03/13/2019

Court: District Court (W.D. Wash.)

Affiliate: Southern California, Washington

Download Document

03/13/2019


Declaration of Hugh Handeyside

Declaration of Hugh Handeyside

Date Filed: 03/13/2019

Court: District Court (W.D. Wash.)

Affiliate: Southern California, Washington

Download Document

03/13/2019


Declaration of Nicholas P. Gellert

Declaration of Nicholas P. Gellert

Date Filed: 03/13/2019

Court: District Court (W.D. Wash.)

Affiliate: Southern California, Washington

Download Document

Pls' Supplemental Brief in Support of Pls' Motion for Sanctions

Date Filed: 03/13/2019

Court: District Court (W.D. Wash.)

Affiliate: Southern California, Washington

Download Document

Defs' Unopposed Motion to Re-Consider Waiver of Privilege

Date Filed: 03/13/2019

Court: District Court (W.D. Wash.)

Affiliate: Southern California, Washington

Download Document

Defs' Notice of Submission of Ten Randomly Selected Documents

Date Filed: 03/12/2019

Court: District Court (W.D. Wash.)

Affiliate: Southern California, Washington

Download Document

Defs' Motion for Leave to Submit Documents Ex Parte, In Camera

Date Filed: 03/07/2019

Court: District Court (W.D. Wash.)

Affiliate: Southern California, Washington

Download Document

03/07/2019


Defs' Cross Motion for Protective Order

Defs' Cross Motion for Protective Order

Date Filed: 03/07/2019

Court: District Court (W.D. Wash.)

Affiliate: Southern California, Washington

Download Document

02/28/2019


Order re Pls' Motion to Compel

Order re Pls' Motion to Compel

Date Filed: 02/28/2019

Court: District Court (W.D. Wash.)

Affiliate: Southern California, Washington

Download Document

02/27/2019


Order on Pls' Motion for Sanctions

Order on Pls' Motion for Sanctions

Date Filed: 02/27/2019

Court: District Court (W.D. Wash.)

Affiliate: Southern California, Washington

Download Document