Last year's decision overturning Roe v. Wade proved to be a major galvanizing moment for people who support abortion rights in communities across the country as bans began to go into effect. One of those states is Michigan, where a grassroots coalition had growing concerns about an archaic 1931 abortion ban that could take effect if the Supreme Court overturned Roe v. Wade, and had already been working to prepare for that possibility. Their tireless work put abortion rights on the ballot with Proposal 3, which secured the right to reproductive freedom in Michigan, protecting abortion, prenatal care, birth control, and all pregnancy-related care.
Here, two of the advocates who led the Proposal 3 charge with community partners discuss how they showed up to protect reproductive freedom for Michiganders.
These interviews have been edited and condensed for clarity.
Bonsitu Kitaba-Gaviglio
Deputy Legal Director, ACLU of Michigan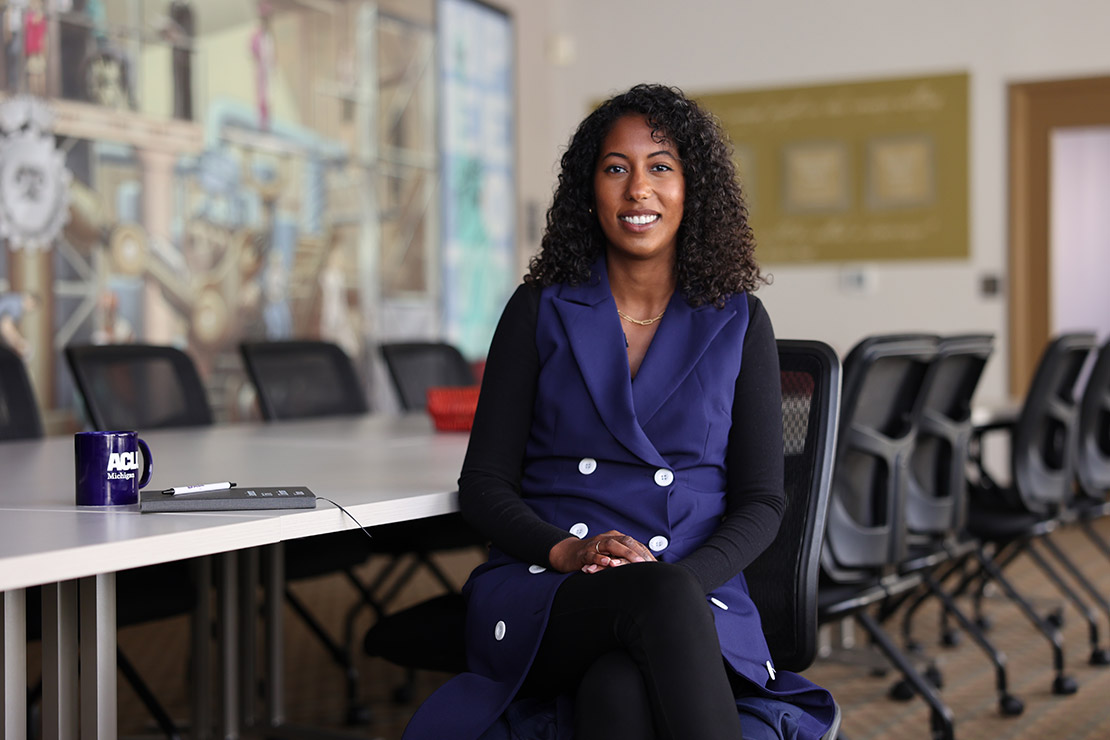 "In 2019, an unprecedented number of state legislatures passed laws across the country banning abortion, including at very early stages in pregnancy. That effort led to a circuit split, and just two years later, the U.S. Supreme Court took up a case from Mississippi called Dobbs v. Jackson Women's Health Organization. Dobbs squarely put in front of the court once again the question of whether abortion was a constitutional right and at what stage of pregnancy it should be protected. By taking that case, the Supreme Court sent a clear message to the country that they were ready to reexamine the Roe v. Wade decision, which had protected the right to abortion for nearly 50 years.
"We knew we could not sit idly by and needed to do something in Michigan to defend the longstanding right to bodily autonomy. After a series of discussions with various stakeholders and impacted people, it was clear that the most enduring way to protect the full spectrum of reproductive rights was to initiate and pass a state constitutional amendment.
"A ballot initiative is, at its core, direct democracy. It's voters and the people of Michigan coming together to say we believe in this issue, we believe in passing this law or this constitutional amendment, and we're going to collect the signatures to put this on the ballot so voters, not politicians, get to decide. And so the idea for Proposal 3 — a constitutional amendment that would enshrine the right to reproductive freedom in our state constitution — really came from the people. We couldn't rely on the Supreme Court anymore, so we as the people of Michigan had to take that fight into our own hands.
We couldn't rely on the Supreme Court anymore, so we as the people of Michigan had to take that fight into our own hands.
"ACLU of Michigan, Michigan Voices, and Planned Parenthood Advocates of Michigan were three of the organizations leading a diverse coalition of groups and individuals in the fight to secure reproductive freedom in our state through Proposal 3. We needed to achieve justice together with Black and Brown communities and women in particular who have been historically denied access to full reproductive rights. The language of Proposal 3 is expansive and protective; it not only protects your right to seek an abortion, but it protects your right to make all decisions related to pregnancy, including contraception, prenatal care, childbirth, miscarriage care, and infertility. It also prohibits the government from passing laws to make it harder for you to get an abortion or to exercise your right to any other form of reproductive health care.
"We launched the campaign in January 2022 and quickly began collecting signatures on the ballot initiative. But frankly, we were having a hard time because not many people realized that the Supreme Court was poised to overturn Roe until the leak of the draft opinion happened.
"I remember the moment the Dobbs draft decision was leaked as a moment of sheer disbelief. I remember getting on a call with my colleagues at the ACLU of Michigan asking each other, 'Is this real? Can we really believe what we're seeing?' Reading the words in that opinion were gut wrenching because it was stripping our choice, stripping our futures. In that moment, we had to strategize and think quickly about what to do next, even though we were in shock.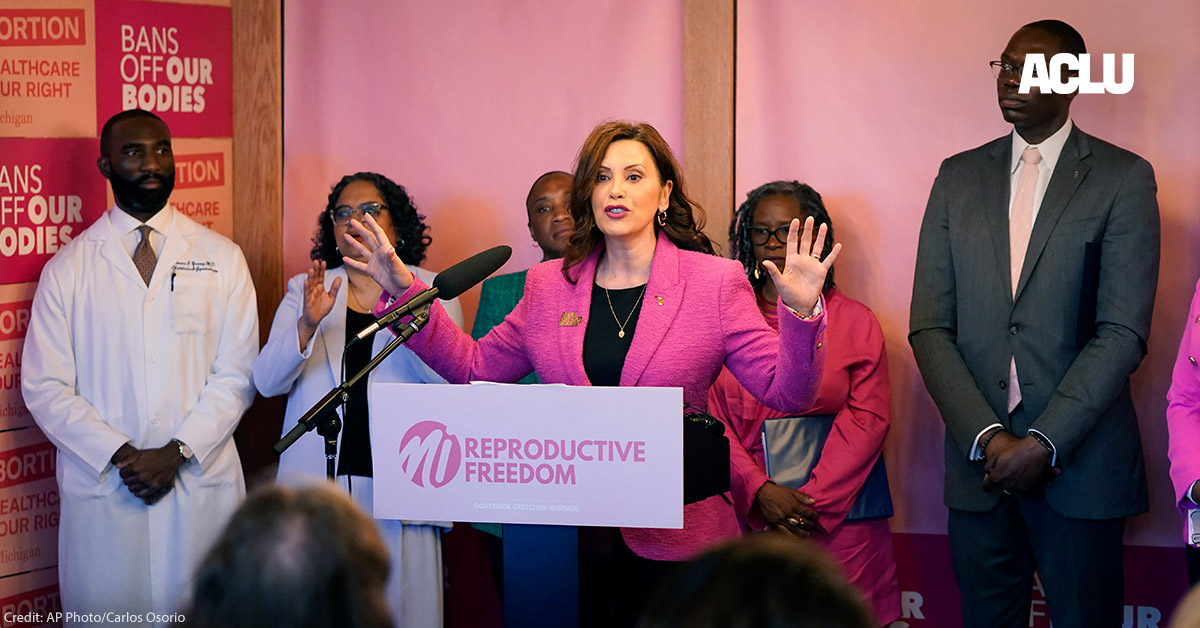 In Michigan, a Historic Victory for Abortion Rights
Michigan's success in securing abortion rights in the state is the result of years of planning, coalition-building, and grassroots organizing.
Source: American Civil Liberties Union
"The leak galvanized so many people in Michigan and across the country because I think it made them scared that this court could really overturn Roe, 50 years worth of constitutional protections, and that it did not believe in their right to bodily autonomy. When the leak happened, many Michiganders quickly understood that Michigan was not a safe haven for reproductive rights, and that fired people up and it fired me up to continue our work. That was a pivotal point in the campaign where people came out of the woodwork to help — people were collecting signatures, talking to their families and communities about what reproductive freedom meant to them, how they could volunteer, and why they should vote for Proposal 3.
"During the campaign and on election night, all eyes were on Michigan. There were a couple other ballot initiatives being run at the same time, but really Michigan was the test to see if we could win on abortion in the Midwest, in a purple state.
"And it was a resounding success! We collected more signatures than any other ballot initiative in our state's history. On election night it was surreal to see the results of Proposal 3 passing. It was a fantastic feeling — years of hard work finally actualized. Michiganders sent a message back to the Supreme Court and country that abortion rights can win. Michigan is a safe haven now for reproductive rights and reproductive freedom.
"I hope the energy of what we did here in Michigan will spread across the country. We set the course, and hopefully created a blueprint for other states to do the same."
Sommer Foster and Shanay Watson-Whittaker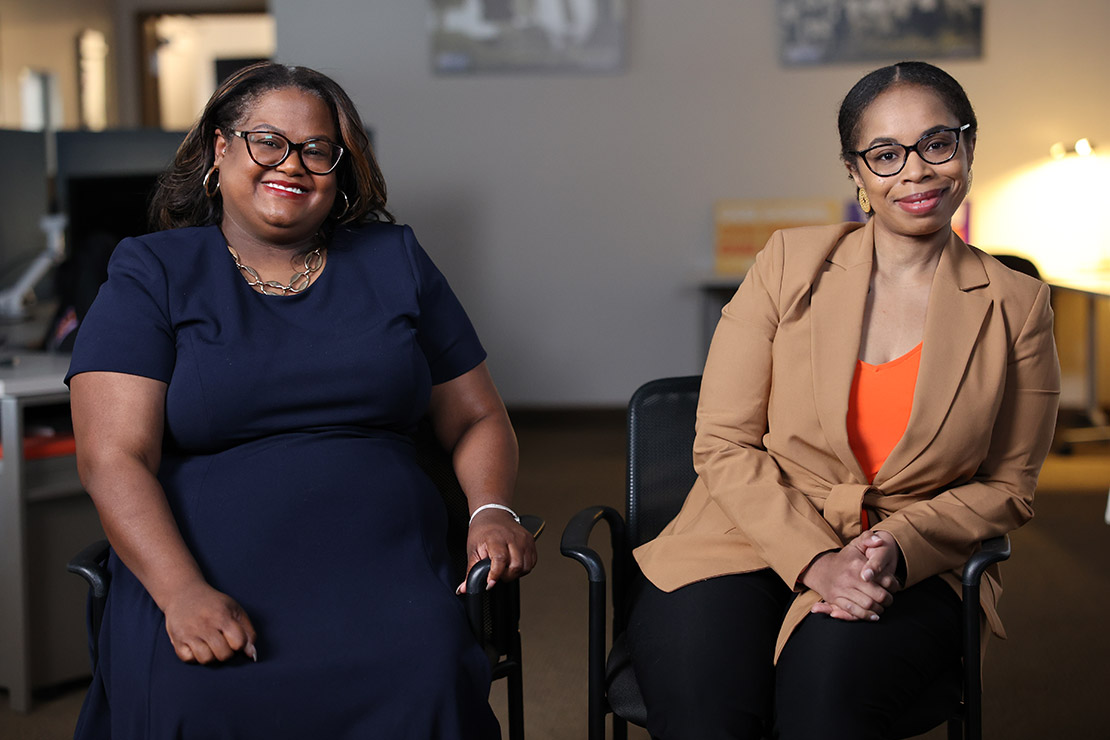 "We had an inkling that Roe v. Wade could be overturned for a long time. It was part of the reason that we formed the Reproductive Justice Work Group.
"The language in Proposal 3 was developed by our partners who made it really clear they didn't want something that just talked about abortion because that wasn't enough for them and for their communities. We wanted to center our work around reproductive justice. Reproductive rights has been around for a very long time, but BIPOC people have felt disconnected from that movement. For us, it goes beyond the right to have an abortion, and so Proposal 3 is the most inclusive law that we have to protect reproductive freedom. It protects the right to contraception, the right to infertility treatment, the right to miscarriage management, the right to be treated with dignity [during childbirth], and the right to have an abortion.
"We are really proud of that law. We're proud that we got it on the ballot and that the voters passed it.
"Roe being overturned was shocking to us for the campaign. It let people know that we were really in danger of losing our rights and that people had to get involved and engaged in this campaign in order to save reproductive rights and abortion access in Michigan.
"So it got real and personal for people and they got involved. We had folks out on the street, at farmer's markets, in community meetings getting signatures. Folks went to talk to their neighbors, their family members, and they told their own personal abortion stories or why it was important to them. We were at grocery stores, churches, and barbecues. We were out there. Wherever you could find us, we were there. We went door to door. About 753,000 people signed the petition for Proposal 3 and it was history making. Michigan never had that many folks sign a petition to get something on the ballot. This is about lives and people and the right to make decisions about their own bodies. And this ballot initiative was about putting the decision in the hands of voters of Michigan. And they once again proved us right, that they want reproductive care and they want reproductive freedom.
This is about lives and people and the right to make decisions about their own bodies. And this ballot initiative was about putting the decision in the hands of voters of Michigan.
"When the numbers came in on election night, it was just a huge sigh of relief. I cried. Victory was wonderful. It was just a wonderful night. In Michigan, we've shown that our voters really care about their reproductive rights and that we have the most comprehensive and the most inclusive law to protect those rights in the state of Michigan
"Michiganders saved ourselves. We didn't wait for politicians to save us. We didn't wait for an elected official to save us. We decided to take this chance and take this opportunity. And we did this. We did this as a coalition. The ACLU of Michigan, as well as Planned Parenthood, Advocates of Michigan, and Michigan Voices moving forward together. And we're still moving forward together. We have a lot of work to do, and I look forward to working together more in the future."