Back to

News & Commentary
In Michigan, a Historic Victory for Abortion Rights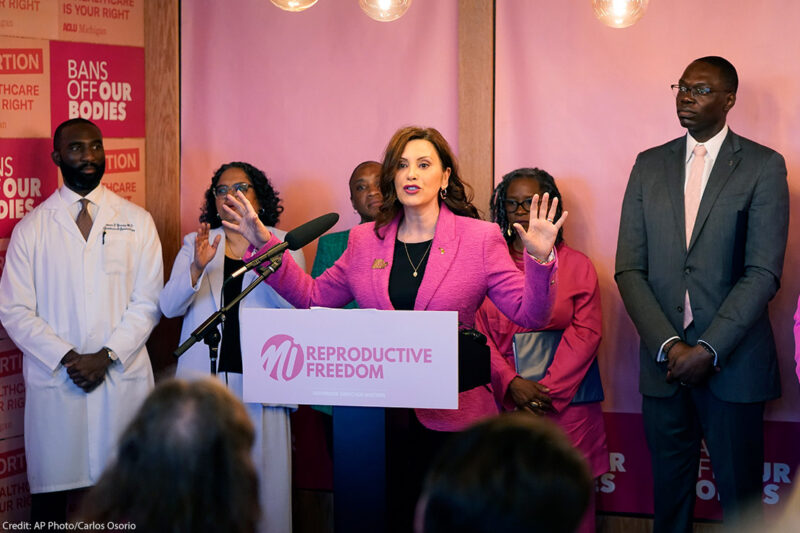 Michigan's success in securing abortion rights in the state is the result of years of planning, coalition-building, and grassroots organizing.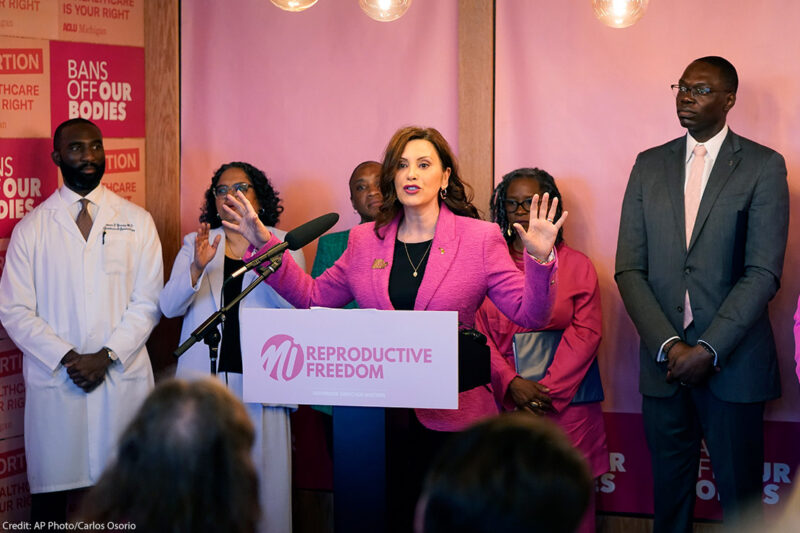 Last year's decision overturning Roe v. Wade proved to be a major galvanizing moment for people who support abortion rights in communities across the country as some bans already on the books began to go into effect. One of those states is Michigan, where a grassroots coalition had growing concerns about an archaic 1931 abortion ban that could go into effect if the Supreme Court overturned Roe, and had already been working to prepare. Their tireless work put abortion rights on the ballot with Proposition 3, which secures the right to reproductive freedom in Michigan, protecting abortion, prenatal care, birth control, and all reproductive health care. The ballot measure passed with overwhelming support in the 2022 midterm elections, and lawmakers quickly got to work to fully repeal the 1931 ban. This week, Governor Gretchen Whitmer made the repeal official.
This victory for abortion rights is the result of years of planning and organizing led by ACLU of Michigan, Planned Parenthood Advocates of Michigan, and Michigan Voices. It's an example of the power of grassroots organizing and the everyday citizens who volunteered to knock on doors, gather signatures, and show up together in coalition to fight for change. It also shows the importance of planning ahead in anticipation of decisions and policies that could impact civil rights and liberties.
Here's how the long road to victory unfolded:
---
January 2021: Building the Movement
Over a year before Roe was overturned, community members at the ACLU of Michigan started building a grassroots coalition to protect abortion access in the state. The ACLU of Michigan anticipated that the fall of Roe was imminent and that an archaic state law from 1931, which makes abortion a felony, could spring into effect if that happened. They joined forces with partners at Planned Parenthood and Michigan Voices to conduct a listening tour with stakeholders and explore how best to mobilize to protect abortion rights and access in the state.
"We had a small but mighty volunteer team that was willing to do whatever it took to convince people that Michigan was in trouble if we didn't get the signatures in time, but it was tough." – Jessica Ayoub, Field Director, ACLU of Michigan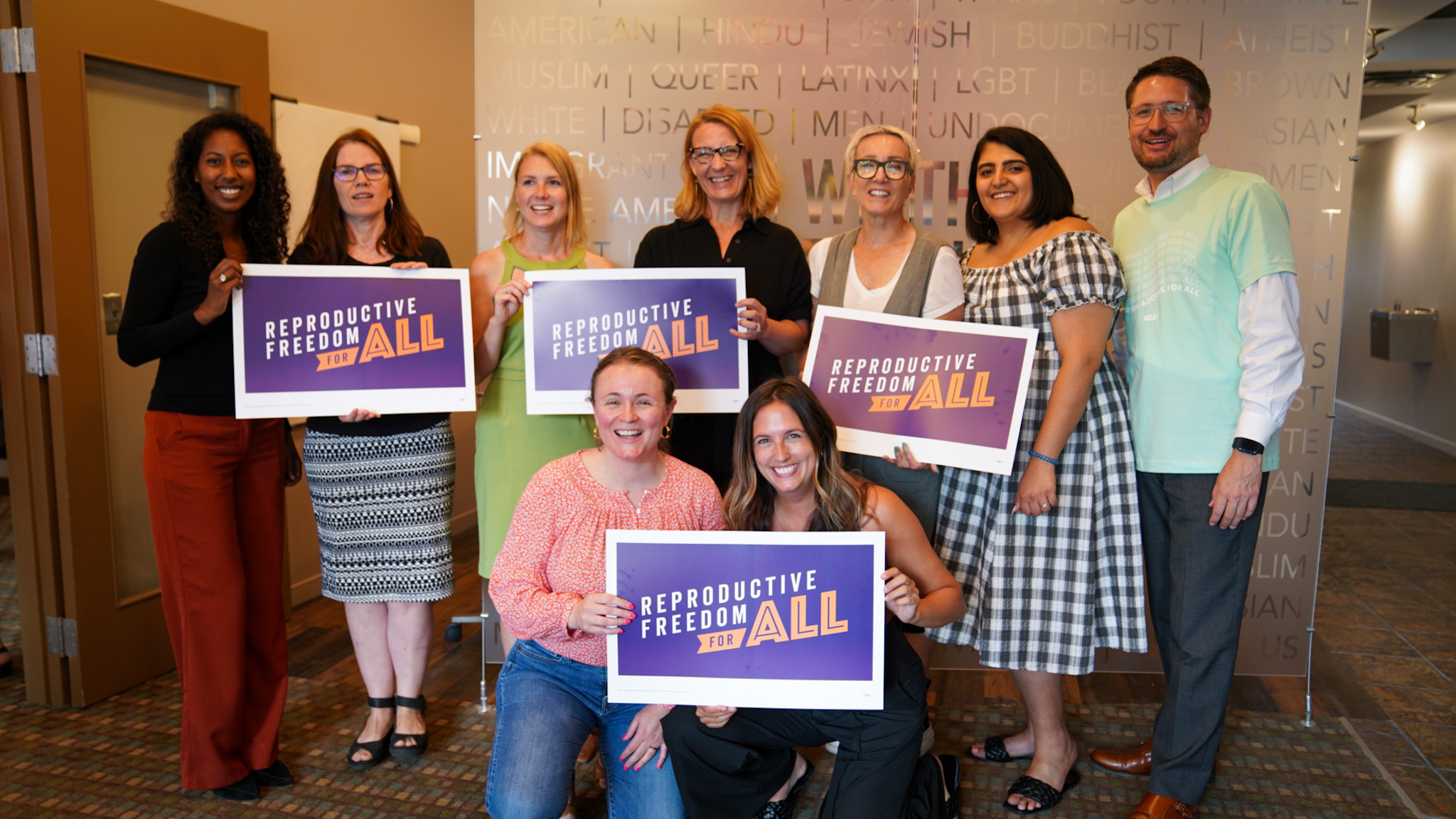 ---
January 2022: Launching the Campaign
After a year-long exploration to understand the concerns and vision of Michiganders and work with key stakeholders, the grassroots coalition concluded that Michiganders wanted to protect and expand the full range of reproductive rights and health care, and that the most enduring way to do that was to amend the state's constitution. To make that happen, the coalition formed a citizen-led ballot campaign, Reproductive Freedom for All (RFFA). Organizers and volunteers from local communities began to collect signatures to put a measure on the midterm ballot. To succeed, they needed at least 425,059 verified signatures from registered Michigan voters submitted by early July.
"Most people didn't think Roe was going to be overturned. They didn't see the urgency. Then the leak happened."— Sommer Foster, Executive Director, Michigan Voices
---
May 2022: The Leak
A draft majority opinion written by Justice Samuel Alito was leaked to the public ahead of the Dobbs v. Jackson Women's Health Organization ruling, revealing plans to overturn Roe. Protests erupted across the country in support of abortion rights. In Michigan, the leak spurred tens of thousands to sign the ballot petition and volunteer to help collect signatures.
"30,000 people reached out to the campaign in one day. It crashed our website." — Sommer Foster, Executive Director, Michigan Voices
---
June 2022: Supreme Court Overturns Roe
In accordance with the draft leak, the Supreme Court issued a ruling in Dobbs that overturned the landmark Roe v. Wade decision, which had ensured abortion was a protected constitutional right for nearly 50 years. The ruling sparked volunteer efforts statewide. With more than 2,000 volunteers, the reproductive freedom ballot campaign began amassing signatures with unprecedented momentum.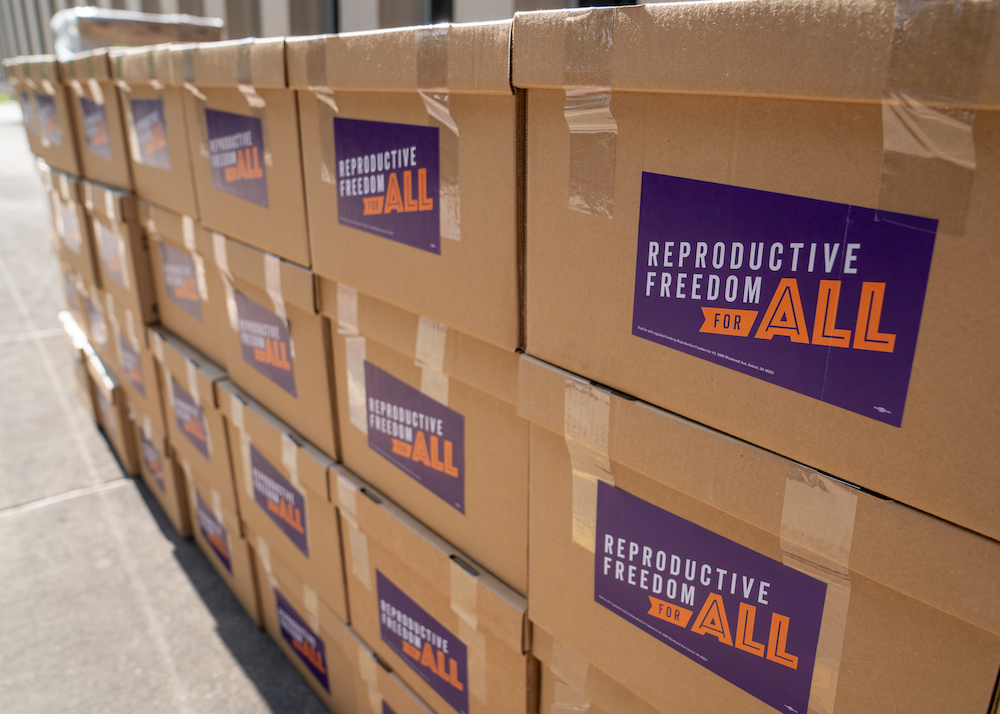 ---
July 2022: Signatures Due
On July 11, RFFA delivered 753,759 signatures — more than any other ballot measure in state history — to the Michigan Secretary of State.
"Our partners in the reproductive justice movement were activated, and our office at the ACLU of Michigan became the petition signing and processing headquarters. Looking around, seeing women of color from all these organizations, I knew something exciting was happening." — Bonsitu Kitaba, Deputy Legal Director, ACLU of Michigan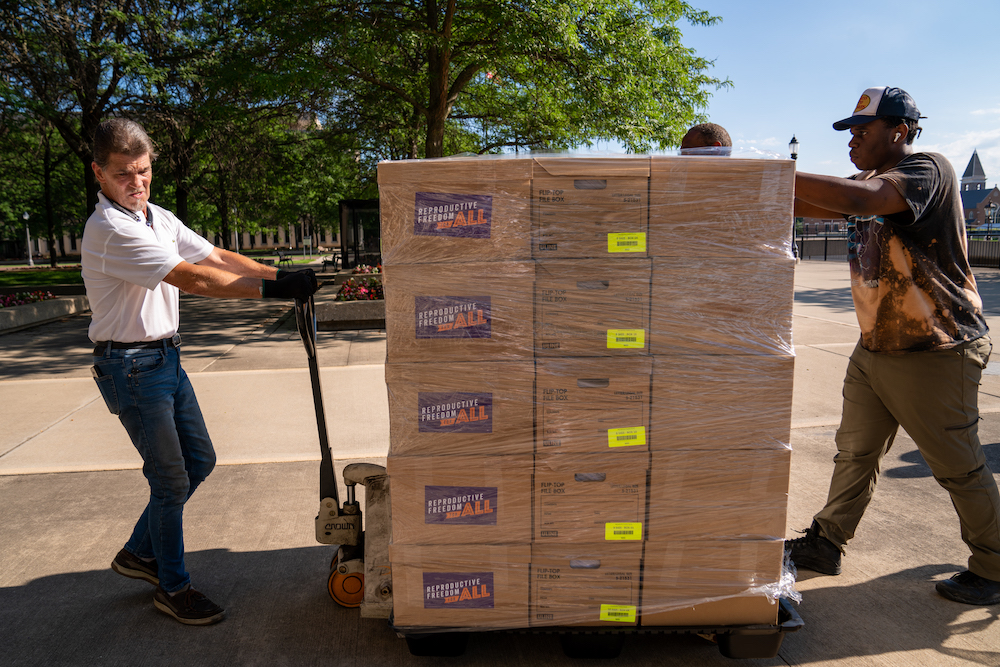 ---
September 2022: Michigan Supreme Court Approves Measure
After the Michigan Board of State Canvassers — the body overseeing approval of ballot measures — rejected the Reproductive Freedom for All amendment on a party-line vote, the state supreme court overturned that decision in an emergency order and certified the measure for the November ballot.
---
September - November 2022: Get Out the Vote
With the ballot measure approved, the Reproductive Freedom for All campaign shifted its focus to getting out the vote as the midterm elections approached. Thousands of volunteers across the state knocked on doors, made phone calls, and talked to friends and family members to build support for Proposal 3. The ballot measure goes far beyond blocking the 1931 law, amending the state constitution to secure the right to reproductive health care, including abortion, in Michigan.
---
November 8, 2022: Election Day
After years of strategic planning, coalition building, and harnessing the power of the people, Proposition 3 won by a wide margin. It was one of several victories for abortion rights in the midterms, which included other successful ballot measure campaigns in California, Kentucky, and Vermont. But the fight isn't over yet.
"We were all together in a room, everyone was hugging and crying. It was the best feeling in the world." — Bonsitu Kitaba, Deputy Legal Director, ACLU of Michigan
---
December 23, 2022: Ballot Measure Goes into Effect
Forty-five days after Election Day, the constitutional amendment went into effect, rendering the 1931 statute banning abortion unenforceable.
"We won. The coalition we built showed up." — Shanay Watson-Whittaker, Director of Strategic Partnerships, Michigan Voices
---
April 5, 2022: 1931 Abortion Ban is Officially Repealed
After quick advocacy efforts from new pro-reproductive freedom majorities in the state legislature, Governor Gretchen Whitmer signed a bill repealing the 1931 abortion ban, eliminating the 92-year-old threat to reproductive freedom.