Yesterday thousands of activists came to the Texas capitol to #standwithTXwomen. Today, the fight continues as the Texas legislature hears testimony about a bill that could shut down almost 90 percent of the abortion clinics in the state and ban abortion starting at 20 weeks of pregnancy. It would be an understatement to say that this measure, if passed, would have a devastating impact on the lives of women and families throughout the state of Texas. So once again, activists are gathering in Austin this afternoon and will add their voices to help stop this extreme measure. And once again, we need women and men throughout the country to #standwithTXwomen.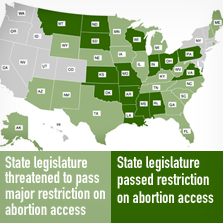 Check out anti-abortion measures in your state.
Alarmingly, the Lone Star state has plenty of company when it comes to extreme measures that will harm women and families. Earlier this week, Ohio joined the list of states that have passed extraordinarily restrictive anti-abortion laws. Governor Kasich signed into law a sweeping anti-abortion measure designed to shut down health centers that provide abortion and block women's access to the care. Wisconsin is poised to join these ranks. In June, the legislature there passed an extreme measure that could require a woman seeking an abortion to undergo a medically unnecessary ultrasound, and require doctors who perform abortions to have special hospital privileges that are not medically indicated and have proven impossible to get in other states. And we can't forget the sweeping restrictions that have already passed this year in Alabama, Arkansas, Kansas, North Dakota, Pennsylvania, Virginia, and beyond. Just check out the map of threats to abortion access in the 2013 legislative session.
These politicians must think women are stupid if they think we want them playing doctor and interfering in our private decisions. We need you to add your support to stop the attack on reproductive freedom in Texas and throughout the country. Just as we know 80 percent of Texans don't want their elected officials to pass this bill restricting access to abortion care, we know that most of the country wants to keep abortion safe and legal.
We need you to stand strong and show extremist politicians that we are paying attention, and we will not back down. It is time to stop this wave of attacks on women's reproductive health care. Now is your chance to take action! Sign the statement supporting women's health. If you're sick of politicians treating us like we are stupid, share your outrage. Pass along this blog to your friends, and tweet using #standwithTXwomen to show your support for women's health.
Learn more about abortion legislation and other civil liberty issues: Sign up for breaking news alerts, follow us on Twitter, and like us on Facebook.