Back to

News & Commentary
This is What Democracy Looks Like? The War on Women Moves Behind Closed Doors in Michigan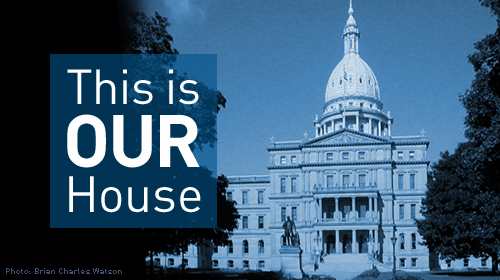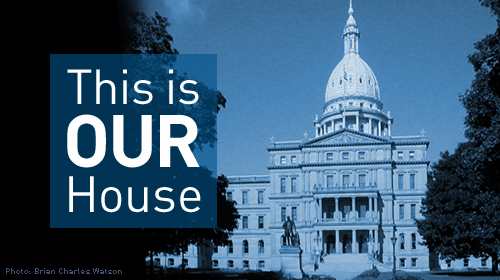 Yesterday, Michiganders were illegally blocked from entering the State Capitol as their legislature passed controversial bills. Hundreds of people came to the Capitol to have their voices heard, but they were kept out of the political process by the very folks whose job it is to represent them.
Not only did they pass the so-called "right to work" legislation, but with the public locked outside, these politicians also advanced bills that will interfere with a woman's ability to make her own reproductive health decisions. Politicians pushed a bill designed to shut down women's health clinics in the state that provide abortion care. They passed a measure that would prohibit insurance plans from offering comprehensive health care coverage that includes abortion. And, a little more than a month after news broke that woman died in a hospital in Ireland because doctors refused to provide a life-saving abortion, the state senate passed a bill that could allow hospitals to use religion to discriminate in providing health care services, even in the case of an emergency.
Well, you have to hand it to them. At least after women's show of power in the election, the Michigan politicians were smart enough not to try to meddle in women's private lives in plain view. They knew how politically costly attempts to restrict a woman and her family reproductive decisions can be. So, they tried to do it in secret. Shhhh. Don't tell.
But that is not what democracy is about. The State Capitol belongs to us. It is our house, not the politicians' house. Legislators are sent to the capitol to represent our views, not quash them. We cannot let them get away with ignoring our voices while they restrict a woman's ability to make personal health care decisions.
It's not too late to stop the bills from becoming law. Urge the governor to veto bills that threaten women's reproductive health care. Share this blog with your friends and spread the word.
Learn more about the war on women: Sign up for breaking news alerts, follow us on Twitter, and like us on Facebook.