Back to

News & Commentary
A Way Toward Balancing Government Budgets While Promoting Justice: Break Our Addiction to Incarceration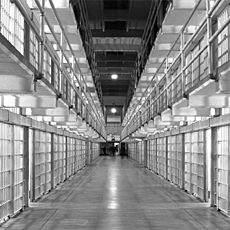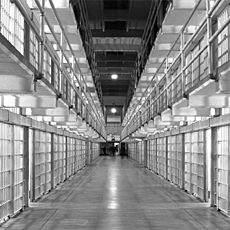 There isn't an American who hasn't felt the devastating effects of the Great Recession. And just when most of us thought it couldn't get any worse, the S&P downgrade of the federal government's Treasury debt last Friday sent shocks through the country and the world, increasing talk about a double-dip recession and creating sharp declines on Wall Street yesterday reminiscent of the 2008 market crash. A downgrade of state and municipality debts could also follow.
The scarcity of funds in American households and the resulting decline in government revenues have forced lawmakers to think twice before spending precious taxpayer dollars. Some states have enacted laws in the name of saving money that have been incredibly short sighted — like cutting funding for public and higher education or increasing financial burdens on the poor. These types of policies may save small amounts of money in the short run, but will have devastating effects on our children's futures and prevent individuals on the margins from contributing to society.
Among all this economic tragedy, however, there is a silver lining. As detailed by a new ACLU report released today, several states have enacted cost-effective laws cutting their unnecessary overreliance and massive spending on prisons while continuing to protect the safety of our communities. This is especially good news considering that state and federal governments spend about $70 billion annually on prisons and corrections. Over the last 25 years, state corrections spending grew by 674 percent, outpacing the growth of other government expenditures.
Our report, entitled Smart Reform is Possible: States Reducing Incarceration Rates and Costs While Protecting Public Safety, highlights six states — Texas, Mississippi, Kansas, South Carolina, Kentucky, and Ohio — that recently passed significant bipartisan reforms to reduce their prison populations and budgets. These states also experienced declines in their crime rates while these new policies were in place. If states that are as "tough on crime" as Texas, Mississippi, and South Carolina can engage in more rational criminal justice policymaking and recognize that mass incarceration is not necessary to protect public safety, there is no reason for other states not to follow suit.
Obviously, the reasons to reduce our overreliance on prisons aren't just fiscal. No dialogue about our criminal justice system is complete without discussing its pervasive and staggering racial injustices. The United States is the largest incarcerator in the world, with communities of color bearing the brunt. Black individuals are imprisoned at nearly six times the rate of their white counterparts, and Latinos are imprisoned at nearly double the white rate. Most of these racial disparities are results of the War on Drugs. While these groups engage in drug use, possession, and sales at rates comparable to their representa­tion in the general population, the system disparately locks up people of color.
For the last 30 years, civil liberties and racial justice advocacy groups like the ACLU have worked tirelessly to stem the explosion of our prison system and its devastating effects on communities of color. In recent years, we have been joined by legislators and advocates from across the political spectrum — including fiscal conservatives like Newt Gingrich, Pat Nolan, and Grover Norquist — in recognizing that mass incarceration is not necessary to protect public safety. The financial crisis has created an unprecedented "interest convergence" — an opportunity to ally with unlikely allies to advocate for and enact reforms to stem prison growth and spending. While we understand that our agenda diverges from that of these new allies on many issues, we also recognize the importance of building coalitions with those who may have different motivations but share the common end goal of a smaller, more rational, and more effective criminal justice system.
For the ACLU, cost-effectiveness and racial justice don't need to be in tension; it isn't an either/or proposition. Economic arguments merely amplify the irrationality of our draconian criminal justice policies that have ravaged communities of color. Reducing reliance on prisons has always made economic sense. The costs to the state and to individuals of using incarceration as an option of first — rather than last — resort far outweigh any benefits to public safety. Civil rights advocates have long recognized the power of economic incentives to create change. A well known example: the Montgomery Bus Boycott of the 1950s that created a crippling financial deficit integral to desegregation efforts. There is no doubt that economic and cost-benefit rationales can play an important role in correcting injustices.
Smart Reform is Possible offers a selection of recommendations for state lawmakers to reform their pre-trial, sentencing, parole, and probation regimes. The report's recommended reforms are not only cost-effective, politically tested, and intended to increase fairness and safety; they are also evidence-based – meaning they are backed up by social science and economic evidence proving their success. They include such common sense policies as reducing pre-trial detention, eliminating mandatory minimum sentences, and providing non-prison alternatives to individuals who commit technical parole violations that are not new crimes.
As we commemorate 40 years of a failed experiment in the War on Drugs, it is time for reason, justice, and evidence — rather than politics and emotion – to guide criminal justice policymaking. Smart Reform is Possible offers a blueprint for states — and the federal government — to do just that.
(Originally published on ACS Blog.)
Learn more about overincarceration: Sign up for breaking news alerts, follow us on Twitter, and like us on Facebook.
Learn More About the Issues on This Page