At Liberty Podcast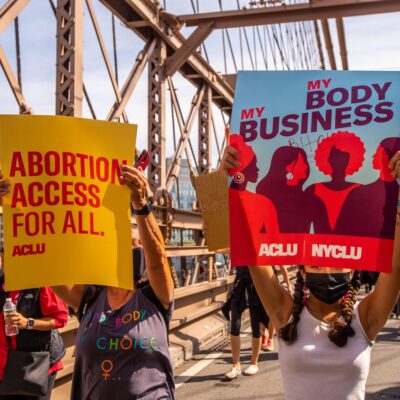 At Liberty Podcast
This Fall's Fight Against Forced Pregnancy
October 7, 2021
All episodes
2021 is shaping up to be one of the most devastating years for abortion access in decades. State legislatures have enacted a blitz of new anti-abortion legislation. As of September 1st, when Texas's six-week abortion ban went into effect, abortion has become functionally illegal in the state. The law, which deputizes citizens to sue anyone involved in abortion care, has emboldened other states to introduce copy cat bills, threatening to make it near-impossible to access an abortion in parts of the country.
The Supreme Court is gearing up to hear challenges to some of these state laws including a case from Mississippi that directly challenges the 1973 precedent set in Roe v. Wade. Given the court's conservative super majority, many legal experts are warning that access to abortion may hang on Congressional action. The Women's Health Protection Act, a bill that could legally enshrine the right to abortion care, passed the House on September 24th but faces a battle in the Senate.
To discuss the state of abortion rights and to preview what's to come this fall, we're joined by 3 experts leading the legal dialogue: Melissa Murray, constitutional and family law professor at NYU Law and co-host of Strict Scrutiny, Imani Gandy, senior editor at the Rewire News Group and co-host of the podcast Boom! Lawyered, and our very own Alexa Kolbi-Molinas, senior staff attorney at the ACLU's Reproductive Freedom Project.
---