At Liberty Podcast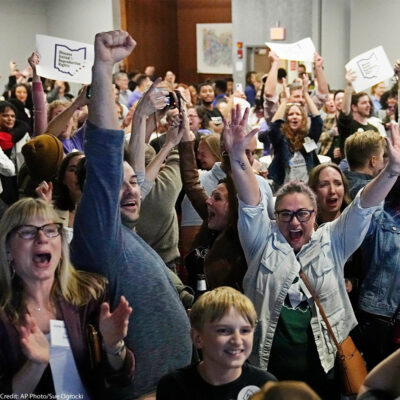 At Liberty Podcast
We're Winning Big At The Polls
November 9, 2023
All episodes
On Tuesday, people across the country took to the polls and made one thing crystal clear: abortion rights matter to voters.
In Ohio, voters passed an amendment to enshrine abortion rights in the state constitution, making it the seventh state to protect abortion access through the ballot box. In Virginia, voters elected a full pro-abortion rights majority in their state General Assembly, and in Pennsylvania, voters maintained a pro-abortion majority in their state supreme court.
As we look to 2024, abortion rights will continue to be on the ballot, meaning that anti-abortion opponents may continue to chip away at voting rights as a mechanism to block the will of voters, using tactics like racial gerrymandering and voter intimidation. All voters deserve an equal opportunity to exercise their rights and participate in democracy.
Today, we'll get an election results update from Jessica Arons, senior policy counsel at the ACLU, who has been working to secure victories for reproductive freedom at the ballot box. Then, we'll speak with Sophia Lin Lakin, director of the ACLU's Voting Rights Project, to talk about how her team is using a recent voting rights victory at the Supreme Court to fight battles all across the country.
Kendall Ciesemier
Host of At Liberty and Senior Executive Producer of Multimedia, American Civil Liberties Union
she/her/hers
Kendall Ciesemier (@kendallciese) is the Host of At Liberty and the Senior Executive Producer of Multimedia at the ACLU. Previously, Kendall worked as a producer and reporter for The New York Times' Opinion section and Mic, a digital media company. Most notably at Mic, Kendall's interview with Alice Marie Johnson, a woman serving a life…
Kendall Ciesemier
Sophia Lin Lakin
Director, ACLU Voting Rights Project
Sophia Lin Lakin (@sophlin229) is the Director of the ACLU's Voting Rights Project, and assists in the planning, strategy and supervision of the ACLU's voting rights litigation nationwide. Sophia has an active docket protecting voting rights and combatting voter suppression across the country and has led or worked on successful challenges to discriminatory voting laws…
Sophia Lin Lakin
Jessica Arons
Senior Policy Counsel, ACLU
she/her/hers
Jessica Arons is a senior policy counsel for the ACLU. In this role, she supports ACLU affiliates with policy needs; coordinates strategic initiatives; and works to leverage and integrate advocacy, litigation, and organizing strategies regarding reproductive health, rights, and justice. Most recently, she served as president & CEO of the Reproductive Health Technologies Project and…
Jessica Arons