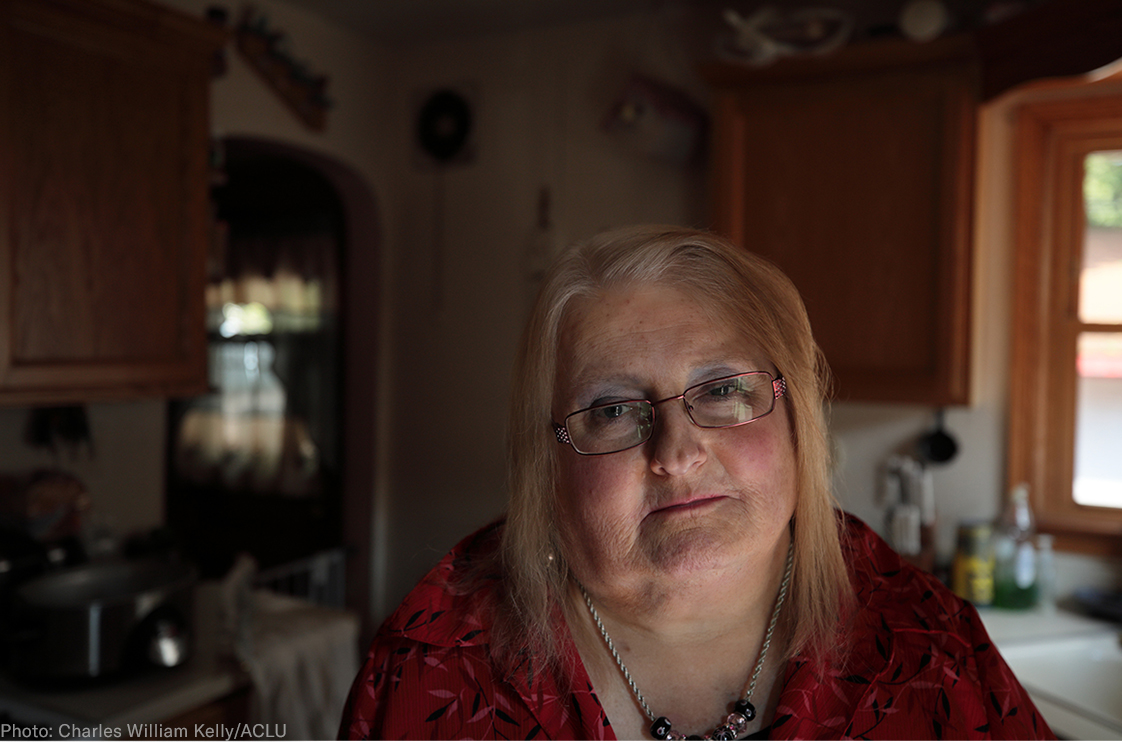 LGBTQ Discrimination Cases at the Supreme Court
Status:
Closed (Judgment)
Last Update:
June 15, 2020
What's at Stake
In Bostock v. Clayton County, the Supreme Court ruled that anti-LGBTQ discrimination violates the federal law against discrimination in the workplace.
Summary
The Bostock case consisted of three cases that were argued at the same time. The ACLU was counsel in two of the cases:
R.G. & G.R. Harris Funeral Homes v. EEOC (Aimee Stephens)
Altitude Express v. Zarda (Donald Zarda)
In the third case, Bostock v. Clayton County, Gerald Bostock was represented by private counsel.
Aimee Stephens
Aimee Stephens worked as a funeral director at R.G. & G.R. Harris Funeral Homes. When she informed the funeral home's owner that she is transgender and planned to come to work as the woman she is, the business owner fired her, saying it would be "unacceptable" for her to appear and behave as a woman.
Don Zarda
Donald Zarda, a skydiving instructor, was fired from his job because of his sexual orientation. A federal trial court rejected his discrimination claim, saying that the Civil Rights Act does not protect him from losing his job for being a gay man. Tragically, in October 2014, Zarda died unexpectedly, but the case continues on behalf of his estate.
Gerald Bostock
Gerald Lynn Bostock was fired from his job as a county child welfare services coordinator when his employer learned he is gay. In May 2018, the Eleventh Circuit Court of Appeals refused to reconsider a 1979 decision wrongly excluding sexual orientation discrimination from coverage under Title VII's ban on sex discrimination, and denied his appeal.
Legal Documents
07/03/2019


21 States and DC

21 States and DC

Date Filed: 07/03/2019

Court: Amicus Briefs in Support of Employees

Download Document

07/03/2019


206 Businesses

206 Businesses

Date Filed: 07/03/2019

Court: Amicus Briefs in Support of Employees

Download Document

07/03/2019


84 Cities, Counties, and Mayors

84 Cities, Counties, and Mayors

Date Filed: 07/03/2019

Court: Amicus Briefs in Support of Employees

Download Document

07/03/2019


AFL-CIO

AFL-CIO

Date Filed: 07/03/2019

Court: Amicus Briefs in Support of Employees

Download Document

07/03/2019


Altria Group, Inc.

Altria Group, Inc.

Date Filed: 07/03/2019

Court: Amicus Briefs in Support of Employees

Download Document

07/03/2019


American Bar Association

American Bar Association

Date Filed: 07/03/2019

Court: Amicus Briefs in Support of Employees

Download Document

07/03/2019


American Medical Association, et al.

American Medical Association, et al.

Date Filed: 07/03/2019

Court: Amicus Briefs in Support of Employees

Download Document

07/03/2019


American Psychological Association

American Psychological Association

Date Filed: 07/03/2019

Court: Amicus Briefs in Support of Employees

Download Document

07/03/2019


Anti-Discrimination Scholars

Anti-Discrimination Scholars

Date Filed: 07/03/2019

Court: Amicus Briefs in Support of Employees

Download Document

Anti-Sexual Assault, Domestic Violence, and Gender-Based Violence Organizations

Date Filed: 07/03/2019

Court: Amicus Briefs in Support of Employees

Download Document

07/03/2019


Employment Discrimination Law Scholars

Employment Discrimination Law Scholars

Date Filed: 07/03/2019

Court: Amicus Briefs in Support of Employees

Download Document

07/02/2019


Equal Means Equal, et al.

Equal Means Equal, et al.

Date Filed: 07/02/2019

Court: Amicus Briefs in Support of Employees

Download Document

Former Chairs and Commissioners of the EEOC and Other Former Executive Branch Officials

Date Filed: 07/03/2019

Court: Amicus Briefs in Support of Employees

Download Document

07/03/2019


Former Solicitors General, et al.

Former Solicitors General, et al.

Date Filed: 07/03/2019

Court: Amicus Briefs in Support of Employees

Download Document

07/03/2019


Georgia Equality

Georgia Equality

Date Filed: 07/03/2019

Court: Amicus Briefs in Support of Employees

Download Document

GLBTQ Advocates & Defenders, National Center for Lesbian Rights, et al.

Date Filed: 07/03/2019

Court: Amicus Briefs in Support of Employees

Download Document

07/03/2019


Historians of Sexuality, Gender, and Law

Historians of Sexuality, Gender, and Law

Date Filed: 07/03/2019

Court: Amicus Briefs in Support of Employees

Download Document

Impact Fund, National Employment Lawyers Association, et al.

Date Filed: 07/03/2019

Court: Amicus Briefs in Support of Employees

Download Document

interACT: Advocates for Intersex Youth, et al.

Date Filed: 07/03/2019

Court: Amicus Briefs in Support of Employees

Download Document

06/27/2019


Karl Olson

Karl Olson

Date Filed: 06/27/2019

Court: Amicus Briefs in Support of Employees

Download Document

07/03/2019


Kenneth B. Mehlman, et al.

Kenneth B. Mehlman, et al.

Date Filed: 07/03/2019

Court: Amicus Briefs in Support of Employees

Download Document

Lambda Legal Defense and Education Fund, Inc. in Support of Aimee Stephens

Date Filed: 07/03/2019

Court: Amicus Briefs in Support of Employees

Download Document

Lambda Legal Defense and Education Fund, Inc. in Support of Bostock and Zarda

Date Filed: 07/03/2019

Court: Amicus Briefs in Support of Employees

Download Document

07/03/2019


Law and History Scholars

Law and History Scholars

Date Filed: 07/03/2019

Court: Amicus Briefs in Support of Employees

Download Document

07/03/2019


Lawyers' Committee for Civil Rights Under Law, The Leadership Conference on Civil and Human Rights, et al.

Lawyers' Committee for Civil Rights Under Law, The Leadership Conference on Civil and Human Rights, et al.

Date Filed: 07/03/2019

Court: Amicus Briefs in Support of Employees

Download Document

07/03/2019


Legal Aid Society of New York

Legal Aid Society of New York

Date Filed: 07/03/2019

Court: Amicus Briefs in Support of Employees

Download Document

07/03/2019


LGBTQ+ Members of the Legal Profession

LGBTQ+ Members of the Legal Profession

Date Filed: 07/03/2019

Court: Amicus Briefs in Support of Employees

Download Document

07/03/2019


Linguists

Linguists

Date Filed: 07/03/2019

Court: Amicus Briefs in Support of Employees

Download Document

07/03/2019


Members of Congress

Members of Congress

Date Filed: 07/03/2019

Court: Amicus Briefs in Support of Employees

Download Document

07/03/2019


Modern Military Association of America

Modern Military Association of America

Date Filed: 07/03/2019

Court: Amicus Briefs in Support of Employees

Download Document

07/03/2019


Muslim Organizations

Muslim Organizations

Date Filed: 07/03/2019

Court: Amicus Briefs in Support of Employees

Download Document

07/03/2019


National Education Association, et al.

National Education Association, et al.

Date Filed: 07/03/2019

Court: Amicus Briefs in Support of Employees

Download Document

07/03/2019


National LGBT Bar Association, et al.

National LGBT Bar Association, et al.

Date Filed: 07/03/2019

Court: Amicus Briefs in Support of Employees

Download Document

07/03/2019


National Women's Law Center, et al.

National Women's Law Center, et al.

Date Filed: 07/03/2019

Court: Amicus Briefs in Support of Employees

Download Document

07/03/2019


Philosophers

Philosophers

Date Filed: 07/03/2019

Court: Amicus Briefs in Support of Employees

Download Document

07/03/2019


Professors Samuel Bagenstos, Michael C. Dorf, Martin S. Lederman, Leah M. Litman, and Margo Schlanger

Professors Samuel Bagenstos, Michael C. Dorf, Martin S. Lederman, Leah M. Litman, and Margo Schlanger

Date Filed: 07/03/2019

Court: Amicus Briefs in Support of Employees

Download Document

Professors William Eskridge Jr. and Andrew Koppelman

Date Filed: 07/03/2019

Court: Amicus Briefs in Support of Employees

Download Document

07/03/2019


Religious Organizations and Faith Leaders

Religious Organizations and Faith Leaders

Date Filed: 07/03/2019

Court: Amicus Briefs in Support of Employees

Download Document

07/03/2019


SEIU

SEIU

Date Filed: 07/03/2019

Court: Amicus Briefs in Support of Employees

Download Document

07/03/2019


Small Business Organizations

Small Business Organizations

Date Filed: 07/03/2019

Court: Amicus Briefs in Support of Employees

Download Document

07/03/2019


Southern Poverty Law Center, et al.

Southern Poverty Law Center, et al.

Date Filed: 07/03/2019

Court: Amicus Briefs in Support of Employees

Download Document

Statutory Interpretation and Equality Law Scholars

Date Filed: 07/03/2019

Court: Amicus Briefs in Support of Employees

Download Document

Transgender Law Center, Center for Constitutional Rights, et al.

Date Filed: 07/03/2019

Court: Amicus Briefs in Support of Employees

Download Document

Transgender Legal Defense & Education Fund, et al.

Date Filed: 07/02/2019

Court: Amicus Briefs in Support of Employees

Download Document

Trevor Project, PFLAG, and Family Equality Council

Date Filed: 07/03/2019

Court: Amicus Briefs in Support of Employees

Download Document

Williams Institute in Support of Aimee Stephens

Date Filed: 07/03/2019

Court: Amicus Briefs in Support of Employees

Download Document

Williams Institute in Support of Bostock and Zarda

Date Filed: 07/03/2019

Court: Amicus Briefs in Support of Employees

Download Document

07/03/2019


Wisconsin Advocacy Organizations

Wisconsin Advocacy Organizations

Date Filed: 07/03/2019

Court: Amicus Briefs in Support of Employees

Download Document

07/03/2019


Women CEOs and Other C-Suite Executives

Women CEOs and Other C-Suite Executives

Date Filed: 07/03/2019

Court: Amicus Briefs in Support of Employees

Download Document
08/23/2019


15 States

15 States

Date Filed: 08/23/2019

Court: Amicus Briefs in Support of Employers

Download Document

08/21/2019


Advocates for Faith & Freedom

Advocates for Faith & Freedom

Date Filed: 08/21/2019

Court: Amicus Briefs in Support of Employers

Download Document

08/23/2019


American Public Philosophy Institute

American Public Philosophy Institute

Date Filed: 08/23/2019

Court: Amicus Briefs in Support of Employers

Download Document

08/22/2019


Billy Graham Evangelistic Association

Billy Graham Evangelistic Association

Date Filed: 08/22/2019

Court: Amicus Briefs in Support of Employers

Download Document

08/25/2019


Business Organizations

Business Organizations

Date Filed: 08/25/2019

Court: Amicus Briefs in Support of Employers

Download Document

Council for Christian Colleges & Universities

Date Filed: 08/23/2019

Court: Amicus Briefs in Support of Employers

Download Document

08/20/2019


Center for Arizona Policy

Center for Arizona Policy

Date Filed: 08/20/2019

Court: Amicus Briefs in Support of Employers

Download Document

08/23/2019


Christian Employers Alliance

Christian Employers Alliance

Date Filed: 08/23/2019

Court: Amicus Briefs in Support of Employers

Download Document

08/23/2019


Family Policy Groups

Family Policy Groups

Date Filed: 08/23/2019

Court: Amicus Briefs in Support of Employers

Download Document

08/23/2019


David A. Robinson

David A. Robinson

Date Filed: 08/23/2019

Court: Amicus Briefs in Support of Employers

Download Document

08/20/2019


Defend My Privacy

Defend My Privacy

Date Filed: 08/20/2019

Court: Amicus Briefs in Support of Employers

Download Document

08/23/2019


Dr. Paul McHugh, M.D.

Dr. Paul McHugh, M.D.

Date Filed: 08/23/2019

Court: Amicus Briefs in Support of Employers

Download Document

08/20/2019


First Liberty Institute

First Liberty Institute

Date Filed: 08/20/2019

Court: Amicus Briefs in Support of Employers

Download Document

Former Secretary of Education William J. Bennett

Date Filed: 08/23/2019

Court: Amicus Briefs in Support of Employers

Download Document

08/16/2019


Foundation for Moral Law

Foundation for Moral Law

Date Filed: 08/16/2019

Court: Amicus Briefs in Support of Employers

Download Document

08/22/2019


Free Speech Advocates

Free Speech Advocates

Date Filed: 08/22/2019

Court: Amicus Briefs in Support of Employers

Download Document

08/21/2019


Great Lakes Justice Center

Great Lakes Justice Center

Date Filed: 08/21/2019

Court: Amicus Briefs in Support of Employers

Download Document

08/20/2019


H.T. Hackney Company

H.T. Hackney Company

Date Filed: 08/20/2019

Court: Amicus Briefs in Support of Employers

Download Document

08/20/2019


Independent Women's Forum

Independent Women's Forum

Date Filed: 08/20/2019

Court: Amicus Briefs in Support of Employers

Download Document

08/23/2019


Institute for Faith and Family

Institute for Faith and Family

Date Filed: 08/23/2019

Court: Amicus Briefs in Support of Employers

Download Document

08/23/2019


Judicial Watch

Judicial Watch

Date Filed: 08/23/2019

Court: Amicus Briefs in Support of Employers

Download Document

08/23/2019


Liberty Counsel (Bostock and Zarda)

Liberty Counsel (Bostock and Zarda)

Date Filed: 08/23/2019

Court: Amicus Briefs in Support of Employers

Download Document

08/23/2019


Liberty Counsel (Stephens)

Liberty Counsel (Stephens)

Date Filed: 08/23/2019

Court: Amicus Briefs in Support of Employers

Download Document

08/23/2019


Marriage Law Foundation

Marriage Law Foundation

Date Filed: 08/23/2019

Court: Amicus Briefs in Support of Employers

Download Document

08/23/2019


Members of Congress

Members of Congress

Date Filed: 08/23/2019

Court: Amicus Briefs in Support of Employers

Download Document

08/23/2019


Military Spouses United

Military Spouses United

Date Filed: 08/23/2019

Court: Amicus Briefs in Support of Employers

Download Document

08/23/2019


Muslim American Leaders

Muslim American Leaders

Date Filed: 08/23/2019

Court: Amicus Briefs in Support of Employers

Download Document

08/23/2019


National Association of Evangelicals

National Association of Evangelicals

Date Filed: 08/23/2019

Court: Amicus Briefs in Support of Employers

Download Document

National Medical and Policy Groups That Study Sex and Gender Identity

Date Filed: 08/22/2019

Court: Amicus Briefs in Support of Employers

Download Document

08/20/2019


National Organization for Marriage

National Organization for Marriage

Date Filed: 08/20/2019

Court: Amicus Briefs in Support of Employers

Download Document

08/22/2019


New Civil Liberties Alliance

New Civil Liberties Alliance

Date Filed: 08/22/2019

Court: Amicus Briefs in Support of Employers

Download Document

08/23/2019


Public Advocate of the United States et al.

Public Advocate of the United States et al.

Date Filed: 08/23/2019

Court: Amicus Briefs in Support of Employers

Download Document

Religious Freedom Institute, Islam and Religious Freedom Action Team, et al.

Date Filed: 08/23/2019

Court: Amicus Briefs in Support of Employers

Download Document

08/21/2019


Ryan T Anderson

Ryan T Anderson

Date Filed: 08/21/2019

Court: Amicus Briefs in Support of Employers

Download Document

08/23/2019


Scholars of Family and Sexuality

Scholars of Family and Sexuality

Date Filed: 08/23/2019

Court: Amicus Briefs in Support of Employers

Download Document

Scholars of Philosophy, Theology, Law, Politics, History, Literature, and the Sciences

Date Filed: 08/23/2019

Court: Amicus Briefs in Support of Employers

Download Document

08/23/2019


United States

United States

Date Filed: 08/23/2019

Court: Amicus Briefs in Support of Employers

Download Document

United States Conference of Catholic Bishops (Bostock and Zarda)

Date Filed: 08/23/2019

Court: Amicus Briefs in Support of Employers

Download Document

United States Conference of Catholic Bishops (Stephens)

Date Filed: 08/23/2019

Court: Amicus Briefs in Support of Employers

Download Document

08/23/2019


Walt Heyer et al.

Walt Heyer et al.

Date Filed: 08/23/2019

Court: Amicus Briefs in Support of Employers

Download Document

08/20/2019


Women's Liberation Front

Women's Liberation Front

Date Filed: 08/20/2019

Court: Amicus Briefs in Support of Employers

Download Document

08/22/2019


W. Burlette Carter

W. Burlette Carter

Date Filed: 08/22/2019

Court: Amicus Briefs in Support of Employers

Download Document

08/23/2019


Women Business Owners and CEOs

Women Business Owners and CEOs

Date Filed: 08/23/2019

Court: Amicus Briefs in Support of Employers

Download Document
Bostock v. Clayton County: Supreme Court Opinion

Date Filed: 06/15/2020

Download Document
Support our on-going litigation and work in the courts
Donate now
Learn More About the Issues in This Case