Since 2021, dozens of states have moved to introduce and pass classroom censorship bills that restrict students and teachers from discussing race, gender, and sexual orientation in public schools. At the same time, politicians and school boards are making moves to ban books — predominately those by Black and LGBTQ authors — from public schools and libraries.
Imagine not being able to freely talk about our country's history of slavery, or not being able to access books from your public library such as Toni Morrison's "Beloved" or Maia Kobabe's "Gender Queer" that speak to issues related to race, gender, and sexuality that impact our daily lives. This is exactly what state lawmakers across the country are trying to make happen.
All young people have a First Amendment right to learn free from censorship or discrimination. The ACLU is committed to defending all student's right to learn, and we need your help.
We hope you will use the resources in this toolkit to help combat classroom censorship efforts in your own school/school districts. Our campaign is thrilled to count on your support! Now, there is no time to waste, so let's get started and do our part to ensure that everyone has the right to learn.
More Ways To Help
Shop Our Banned Book Merch | Shop Now
Shop Our Banned Book Merch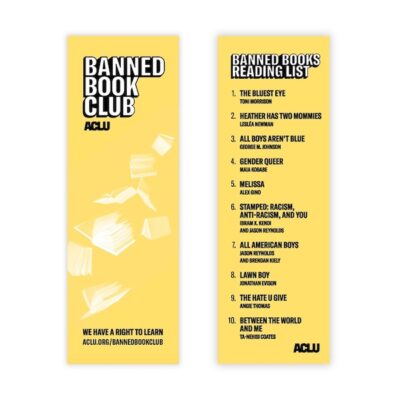 Show your support with merch from our shop, featuring Banned Book Club stickers, bookmarks, pins, and pens.
Shop Now